SANY 10MT ISUZU telescopic knuckle boom truck
ISUZU telescopic knuckle boom truck ,ISUZU knuckle boom crane lorry ,ISUZU hydraulic boom crane,ISUZU telescopic boom crane van ,mobile ISUZU knuckle-crane truck ,ISUZU knuckle crane mounted truck,ISUZU truck with knuckle crane,ISUZU telescopic boom crane truck,ISUZU boom arm crane truck,etc
Features and advantages of ISUZU boom crane lorry :
Single cylinder synchronization guy cable technology make work efficiency more higher than before.
Advanced development means make sure that the design is reliable.
The more symmetrical center design of pentagon hexagon boom make it has bigger anti-bending capacity.
Compact hinge point design take up smaller space.
The work is more safety after fitted with overwind alarm equipment.
The integer lifting winch improved the working efficiency greatly and prolonged work life of hydraulic system.
Float three-point bridge structure can lower the accessional stress on the chassis when driving.
Self-designed and developed slewing machine with greater driving force can meet various requirements of working situation. 9. Anti-slewing impulse equipment that make vehicle running safety.

10tons  arm crane
Main information of ISUZU truck with knuckle crane 
Vehicle information list
Truck brand
ISUZU boom crane van
Truck model
QL1140TMFR
Total mass(kg)
17000
Rated mass(kg)
10000
Vehicle size(mm)
8460×2465×2860
Curb weight(Kg)
6930
Box size(mm)
5200×2330×1000
Cabin seat
3
Drive type
Left hand drive
A/D angle(°)
26/11
F/R hang(mm)
1335/2425
Leaf spring quantity
9/14
Axles quantity
2
Wheelbase(mm)
4500
Tyre quantity
6
Tyre size
10.00-20-16PR
Front track(mm)
1960
Rear track(mm)
1855
Wheel loading(Kg)
6000/10000
Max speed(Km/h)
95
ISUZU knuckle crane mounted truck Chassis information list
Chassis model
QL1140TMFR
Fuel type
Diesel
Standard
GB17691-2005(euro III),GB3847-2005
Engine model
6HK1-TC
Displacement/power(ml/kw)
7800/192/260HP
10t of crane picture
10tons crane information
Maximum lifting moment: 23 tons of rice
Maximum lifting weight: 10 tons
The biggest hydraulic extension: 12.3 meters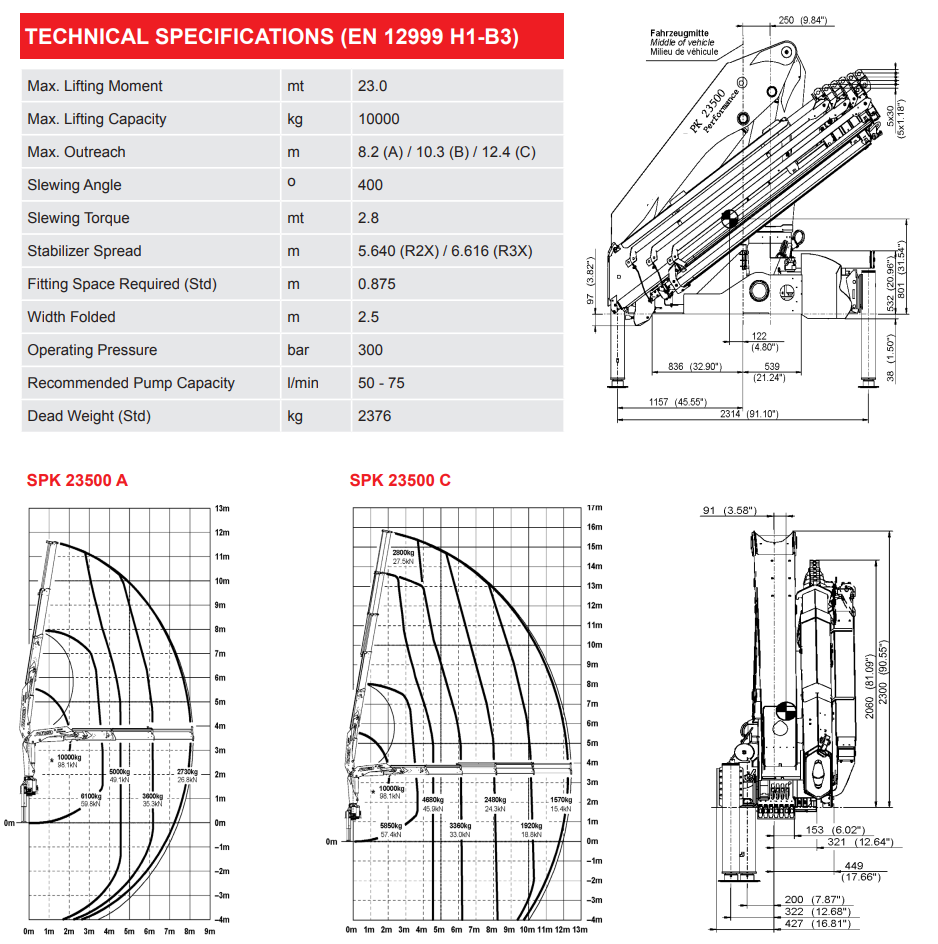 –Optional chassis brand:ISUZU,DONGFENG ,FAW,JAC,Shancman,JMC,HOWO,BeiBen…
—Optional cranes brand:XCMG,SANY PLAFINGER,ChangXing,ShiMei…
—Optional crane type: scalable Straight boom/folding arm
—Optional crane tonnage: 2 ton 4ton 5ton6.3ton 7ton 8ton 10ton 12ton 14 ton 16ton 20ton 25ton 30ton …
More details of ISUZU telescopic boom crane truck main parts 
ISUZU knuckle crane boom lorry Throttle Control System
Changing the form of previous manipulation and throttle operation individually,Realization of the bilateral handle synchronous and driving throttle acceleration and deceleration automatically, due to the speed change steady,it can easily to carry out the lifting work.
ISUZU hydraulic lift boom hold arm crane End position automatic hook device
Maximum savings in preparation time before and after operation, to ensure that customer's vehicle could be in a driving state in the shortest time, and prevent crane damage accident caused by hoist swing to enhance the safety of driving.
mobile ISUZU knuckle-crane truck


Hoisting overwinder device
If a user is negligent or unfamiliar with the operation of lifting hooks,the hoisting overwinder device will stop hook raise in
time, to prevent the safety of personal and property caused by fracture of wire rope.
ISUZU telescopic stiff crane truck Slewing locking device
Slewing locking device can ensure that the lifting arm does not sway because of the centrifugal
Welcome you come to china and visit our factory to inspect our ISUZU knuckle-crane boom truck .
Call us now! 0086-18727992788