12000Liters 4×2 euro 4 ISUZU sewage truck
ISUZU sewage truck named ISUZU Vacuum Suction Truck, ISUZU toilet Sewage Treatment Truck,ISUZU Septic Tank Suction vehicle, ISUZU Sludge Cleaning lorry,ISUZU  sewage tanker cargo
Function of ISUZU vacuum sewage truck
ISUZU Sewage suck tanker truck is a new type of sanitation vehicle that collects, transfers, cleans and transports sludge and sewage, and avoids secondary pollution. Liquid substances such as crude oil. The jetting sewage suction truck adopts the domestic technology-leading vacuum pump of the jetting pressure sewage suction truck, which has a large suction force and a long suction distance.
It is especially suitable for the suction, shipment and discharge of the sludge in the sewers, especially the sewage sludge, silt, stones and bricks. larger objects such as blocks.
ISUZU  jetting Sewage vacuum trucks are mainly used for cleaning urban sewers, sediments in pipelines, and dredging of dead-end mud ditch. . choose
specific of the protable  sewer suction truck
Chassis information


Total mass(kg)
14000
Curb weight(kg)
7805
Loading (kg)
10000
Chassis
QL11409KFR
Cabin seat
3
A/D angle(°)
26/12
F/R hang
1335/2265
Vehicle size(mm)
8040x2460x2780
Tanker volum
10000L
Axles loading(F/R)
4450/9550
Axles quantity
2
Max speed
95
Tyre size
9.00-20
Tyre quantity
6
Front track
1960
Rear track
1855
Wheelbase
3900
Leaf spring quantity
7/7+5
Standard
GB17691-2005(euro Ⅳ),GB3847-2005
Fuel type
Diesel
Engine
4HK1-TCG40

190HP

5193ml

139kw

Gear box
6-speed ISUZU brand MLD
Air condtion
With

Update body information list
More tanker equipment
Oily water separator, air water separator, special vacuum excrement suction pump, pressure volume gauge, pipeline system, the sucking tube, flow valve, vacuum tank, a communicating device (as the dung window), automatic anti-overflow valve these parts
Vacuum pump
Vane rotor pump with 4-way-value
Suction tube diameter
108mm
High pressure water pump
Bentian brand
assembly
Oil-water separator,

gas-water separator,

Hydraulic self-unloading device,

Special vacuum suction pump,

Pressure volume table,

Pipe network system,

Aspiration catheter,

Gravity valve,

Vacuum tank,Connector ( depending on the dung window ),

automatic anti-overflow valve,
Structure of the ISUZU sewage tanker truck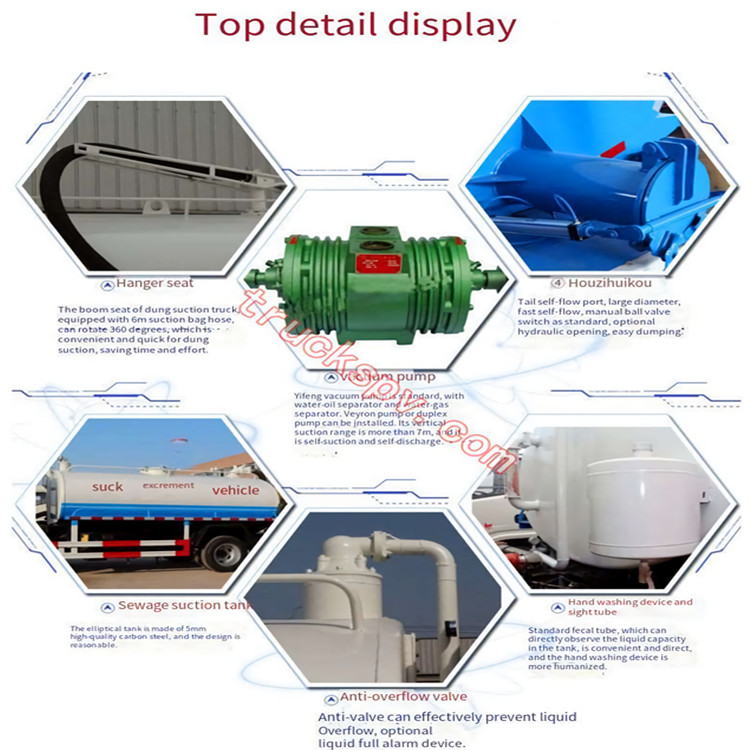 details of the isuzu sewage tanker
Advantage of the suzuk vacuum suction vehicle
First: vacuum pump accessories for isuzu toilet suction lorry
ISUZU clean sewage lorry oil-water separator
The hydraulic oil separated by the oil-water separator of the sewer vacuum vehicle is re-used as the lubricating oil for the vacuum pump of the sewage suction truck, but the separated water will be stored at the bottom of the tank, so the sewage suction truck must be drained after the work is completed.
Second: anti-overflow valve of sahcman toilet sewage truck
the sewage suction truck install a anti-overflow valve to prevent the sewage from overflowing into the vacuum pump of the sewage suction truck when the tank is full.
The vacuum pump of the sewage suction truck sucks more sludge, which is easy to damage the vacuum pump. Therefore, when the sewage suction truck is working, it is necessary to check the quality of the anti-overflow valve frequently.
call us to get ISUZU clean sewage lorry Contact us now:0086-18727992788