15tons lift and towing IVECO wrecker truck
IVECO  wrecker truck called hongyan IVECO wrecker tow truck,IVECO tow truck,15T IVECO towing truck,IVECO breakdown truck,road clear broken cars crane wrecker,IVECO  tow recovery vehicle or hongyan IVECO tons breakdown lorry,IVECO 15tons 4×2 wrecker ,IVECO remote control crane wrecker towing vehciel .
It is used to remove road disabled ,pull broken or damaged vehicles , improperly cars parked ,when your cars suddenly breaks down on a highway, you need call a  rotator towing truck .
IVECO tow truck Feature
—–4 axles IVECO chassis with weichai engine
—–Easy parts
—–Low center of gravity ,lift crane and under towing equipment is seperate
—–different kinds choices
—–High quality steel and directly manufacture factory in suizhou city,HuBei province . China .
Main parameter of the IVECO wrecker
Main specific
Product name
Wrecker truck with crane
Model
IVECO
Total weight
18000kg
Rated weight
9900kg
Curb weight
7905kg
Vehicle size
8650,9000x2550x3100
Wheelbase
4635
Max speed
110km/h
Chassis model
CQ1186ALDG38-501
Fuel type
diesel
Tyre size
10.00R20 18PR
Tyre quantity
6
Standard
GB17691-2005euro Ⅴ,GB3847-2005
Engine model
SC7H215Q5
Displacement / power
6440ml/158kw
Horsepower
245HP
Upper-Body  specification IVECO 4×2 recovery truck
Lifting function
Lifting system
Max  Lifting weight(kg)
 10tons
Full extend lifting weight(kg)
5tons
Crane
Crane Maximum lifting weight
10tons to 12tons
Crane lifting height
5980mm
Max towing capacity
16tons
Winch
Quantity
2
Each winch capacity
80KN
Structure of the IVECO towing cars truck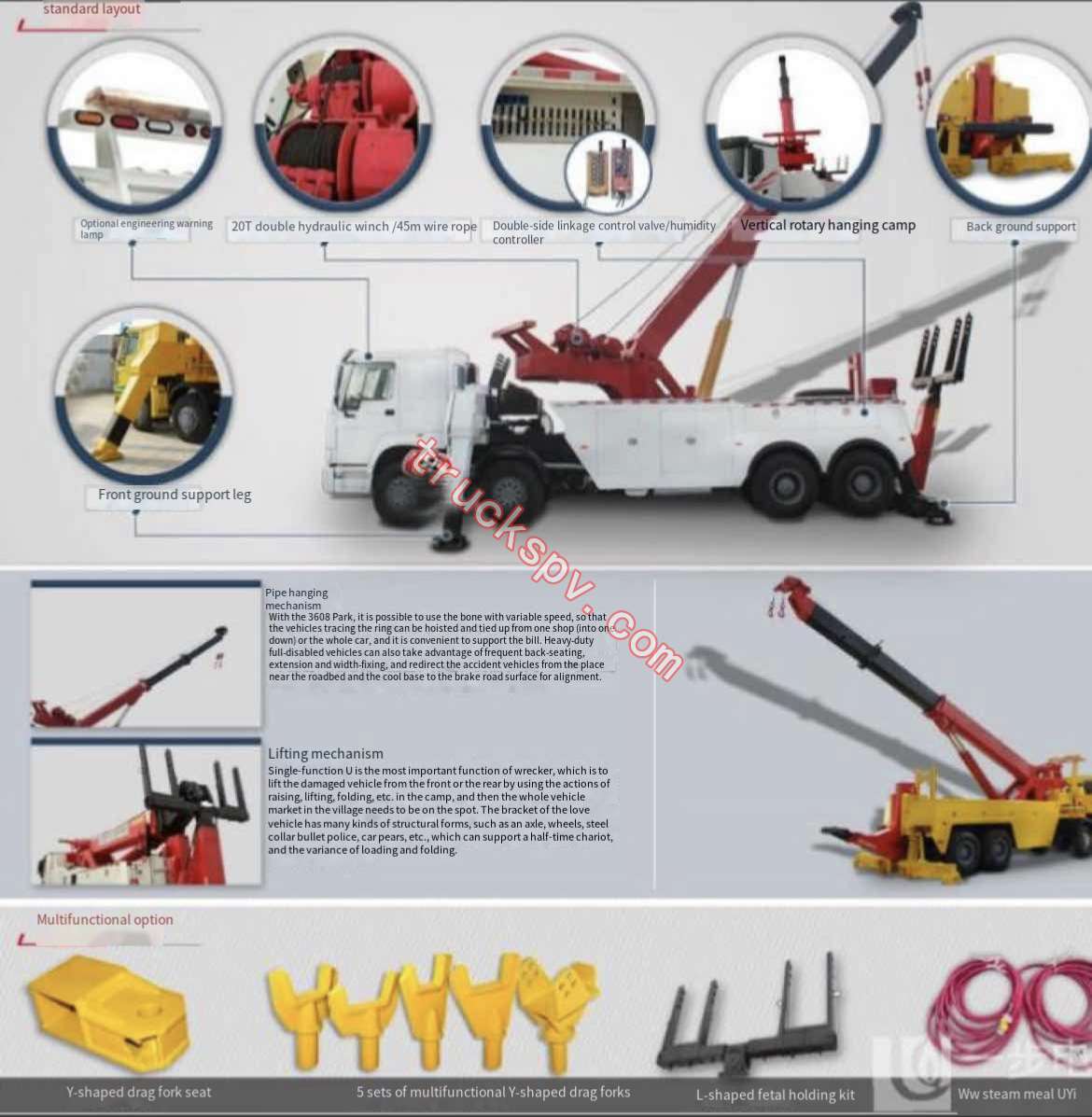 Questions of our clients often asked of 4×2 IVECO towing truck
What does heave wrecker tow truck means?
For rescue or plunder , a towing truck clean the block road broken cars or parked equipments.
Why is this truck called wrecker ?
The wrecker with hydraulic lifting jib named in 1916 year , it had ropes, winch .under towing equipment .
What is the difference between a wrecker and a tow truck ?
a two vehicle winch can tow or haul a equipment , but a wrecker can recover the vehicles , sometime people call the wrecker as a towing truck , but in truth a towing truck can not be called wrecker .
How to buy a good tow truck ?
Find a factory like us.
Where can be rented one IVECO recovery tow truck ?
Call us ,we will offer tel who near by you .
Welcome you come to china and visit our factory to inspect our IVECO tow vehicle.
Contact us 0086-18727992788