25T 30T volvo wrecker truck
VOLVO wrecker truck called VOLVO tow truck,25tons heavy wrecker,20T tow truck,VOLVO breakdown truck, 25T volvo recovery truck, crane wrecker, volvo car carrier truck ,tow recovery vehicle or  breakdown lorry,rotation wrecker tow truck, rotation 360 degree remote control crane wrecker towing vehciel .
It is used to remove road disabled ,pull broken or damaged vehicles , improperly cars parked ,when your cars suddenly breaks down on a highway, you need call a  rotator towing truck .
VOLVO tow truck Feature
—–3 axles VOLVO chassis with VOLVO 6 serise engine
—–Easy parts
—–Low center of gravity ,heavy duty crane and under towing equipment is seperate
—–different kinds choices
—–High quality steel and directly manufacture factory in suizhou city,HuBei province . China .
Main parameter of the 20t VOLVO recovery wrecker truck
VOLVO chassis information list
VOLVO heavy crane wrecker Vehicle information list
Truck brand
VOLVO car carrier wrecker tow truck
Truck model
CLW5250TGY12
Total mass
25000
wrecker body
20tons to 25tons
Rated mass
12625
Vehicle size
9270×2500×3100
Curb weight
12180
Cabin seat
3
A/D angle
26/14
F/R hang
1335/2185
Axles
3
Wheel base
4450+1300
Axles loading
7000/18000(double rear axles)
Max speed
95
Chassis information list
Chassis model
VOVLO
Tyre quantity
10
Tyre size
10.00R20
Leaf spring quantity
9/10
Front track
2060
Fuel type
Diesel
Rear track
1855/1855
Standard
Euro 4
Engine model
300HP
Displacement/power
7790ml/220kw
Transmission
Fast 9-speed
CD
yes
Air condition
yes
Cabin
Flip cabin
Steering
yes
wrecker body information list
20tons wrecker update body parameter
Max towing weight
>=60000kg
Wheel lift Max lifting weight
20000kg
Wheel lift Full extended of the maximum lifting capacity
9500kg
Wheel lift effective length
1460mm to 3599mm
Wheel lift extension stroke
1639mm
Wheel lift folding angle
-7 C to 93 C
Full retraction of the upper surface of the cross arm from the ground
900
Full retraction max lifting capacity
20000kg
Full extension max lifting capacity
8000kg
Boom max length
5470mm
Cylinder extension stroke
3300mm
Max lifting height
6500mm
Lifting boom up angle
5.0C to 33C
Hydraulic Winch
2
Winch capacity
Each winch is 25tons , two units total is 50tons
Winch rated towing capacity
250×2 kN
Rope diameter
26mm
Rope length
45×2 m
20T volvo breakdown truck  Rope min speed
5.5m/min
25T VOLVO recovery truck boom
The main boom is built of rectangular steel profiles and is equipped with a reinforced mounting plate for the main recovery winch at the front end. Lifting of main boom is effected by two hydraulic cylinders.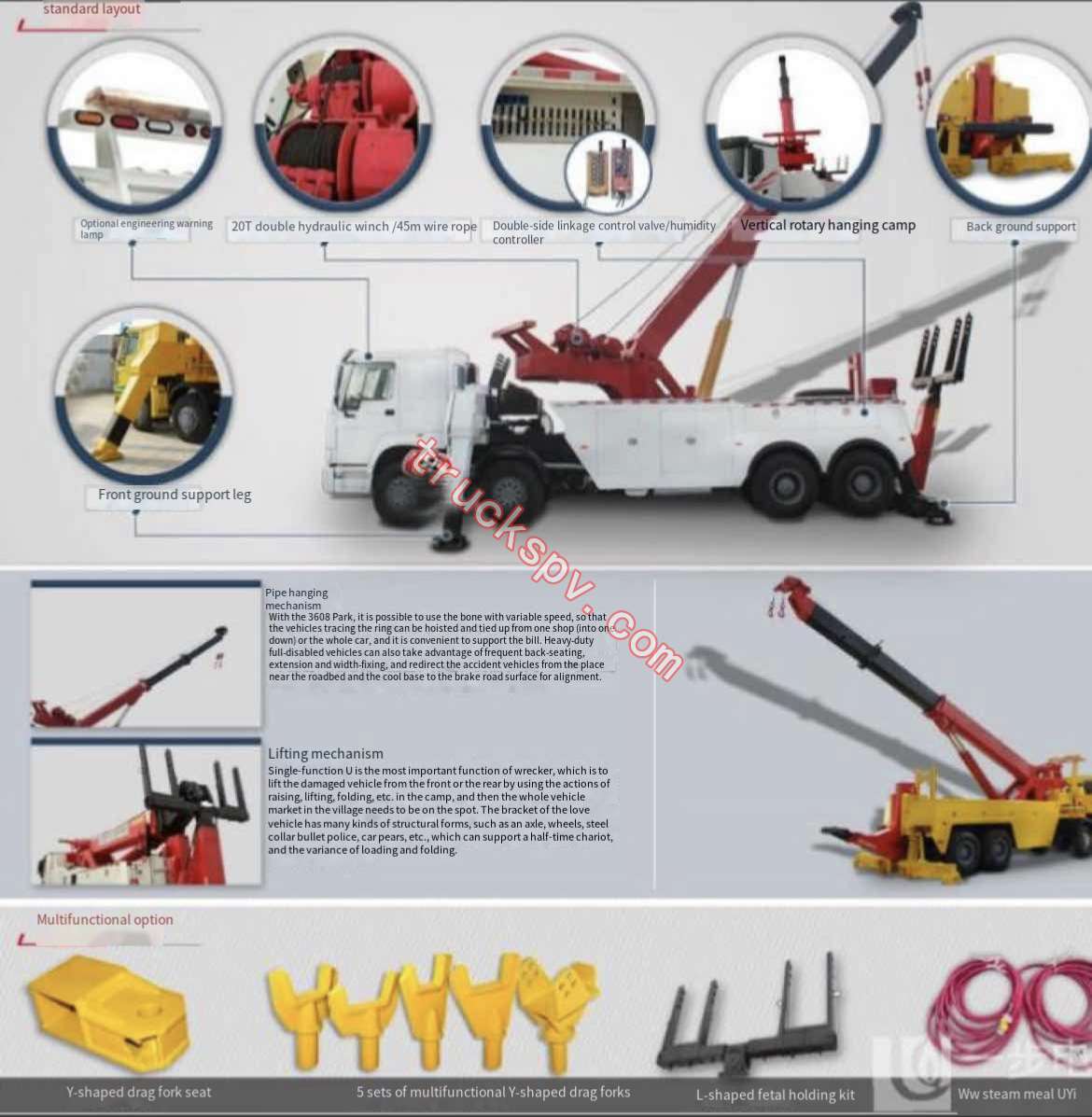 Questions of our clients often asked
What does 20T VOLVO towing truck means?
For rescue or plunder , a towing truck clean the block road broken cars or parked equipments.
Why is this truck called wrecker ?
The wrecker with hydraulic lifting jib named in 1916 year , it had ropes, winch .under towing equipment .
What is the difference between a wrecker and a tow truck ?
a two vehicle winch can tow or haul a equipment , but a wrecker can recover the vehicles , sometime people call the wrecker as a towing truck , but in truth a towing truck can not be called wrecker .
How to buy a good VOLVO heavy RECOVERY TRUCK ?
Find a factory like us.
Where can be rented one VOLVO heavy tow truck ?
Call us ,we will offer tel who near by you .
Welcome you come to china and visit our factory to inspect our rotator VOLVO  tow vehicle.
Contact us 0086-18727992788