6×4 25MT shacman recovery truck
shacman recovery truck called 6×4 25MT shacman  tow truck,shacman tow wrecker,shacman  breakdown truck,heavy crane wrecker,shacman 360 degree recovery vehicle or shacman heavy  breakdown lorry,shaanxi  heavy wrecker tow truck,25t wrecker truck ,H3000 rotation 360 degree remote control crane wrecker towing vehciel ,It is used to remove road disabled ,pull broken or damaged vehicles , improperly cars parked ,when your cars suddenly breaks down on a highway, you need call a  rotator towing truck .
shacman  breakdown tow truck Feature
—–shacman 6×4 chassis with weichai engine
—–Easy parts
—–Low center of gravity ,rotator crane and under towing equipment is seperate
—–different kinds choices
—–High quality steel and directly manufacture factory in suizhou city,HuBei province . China .
Vehicle information list
Truck brand
Shanxi
Truck model
SX1256NR564
Total mass
25000
Rated mass
10130,9480
Vechicle size
10260,10500×2500×3280
Curb weight
18650,17900
Cabin seat
2
A/D angle
18/18
F/R hang
1525/1760,1525/2000
Alxes quantity
3
Wheelbase
5575+1400
Wheel loading
7000/18000/18000
Max speed
80
Groundclearance
550mm
Chassis information list
Chassis model
SX1256NR564
Tyre quantity
10
Tyre size
11.00R20
Leaf spring quantity
9/12,4/12,4/5,10/12
Front track
2036
Fuel type
Diesel
Rear track
1860/1860
Standard
GB17691-2005 Euro III,GB3847-2005
Engine model
WP10.310NE31
Displacement/power
9726ml/228kw
Update information list
Support legs
Quantity:2
Tower
Tower rater towing weight:rated :30t
Width of support :1700mm
25t wrecker truck Crane
Crane stretch out and draw back route(m):6
Corbel
Corbel length: 32m
Crane lifting height(m):12m
Corbel Rated lifting mass(kg):13t
Crane max lifting weight:10t
capstan
wire rope length: 60m
Crane rotation:360 roator
Quantity:2
25t wrecker truck Information compare
6 wheel drive with diff locks on all axles and Hi/lo ratio.
GKN hub reduction
Air brakesFuel capacity 330 litres.

The recovery unit is an EKA 6500 compact recovery unit comprising of:

12,500kg Atlas Crane, Max lift of Crane 2900mm 12.5 Tonne, 7700mm 4.8 tonne
Drawbar Suspend Tow & Winching Facilities,
Front Hydraulic Wharton 10,000kg Winch
Rear Hydraulic Rotzler Winch 25000Kg
Hydraulically Operated Main Boom, Incorporating folding & extending underlift
Capability 30 Tonne straight Tow.
16 tonne suspended Tow

6 wheels northbenth chassis ,drum air brake

400L fuel tank capacity

10tons crane is max lifting capacity for 6×6 truck

Front winch is 10,000kg

Rear winch is 25,000kg

30tons straight tow

16tons suspended Tow
Structure of the shacman recovery truck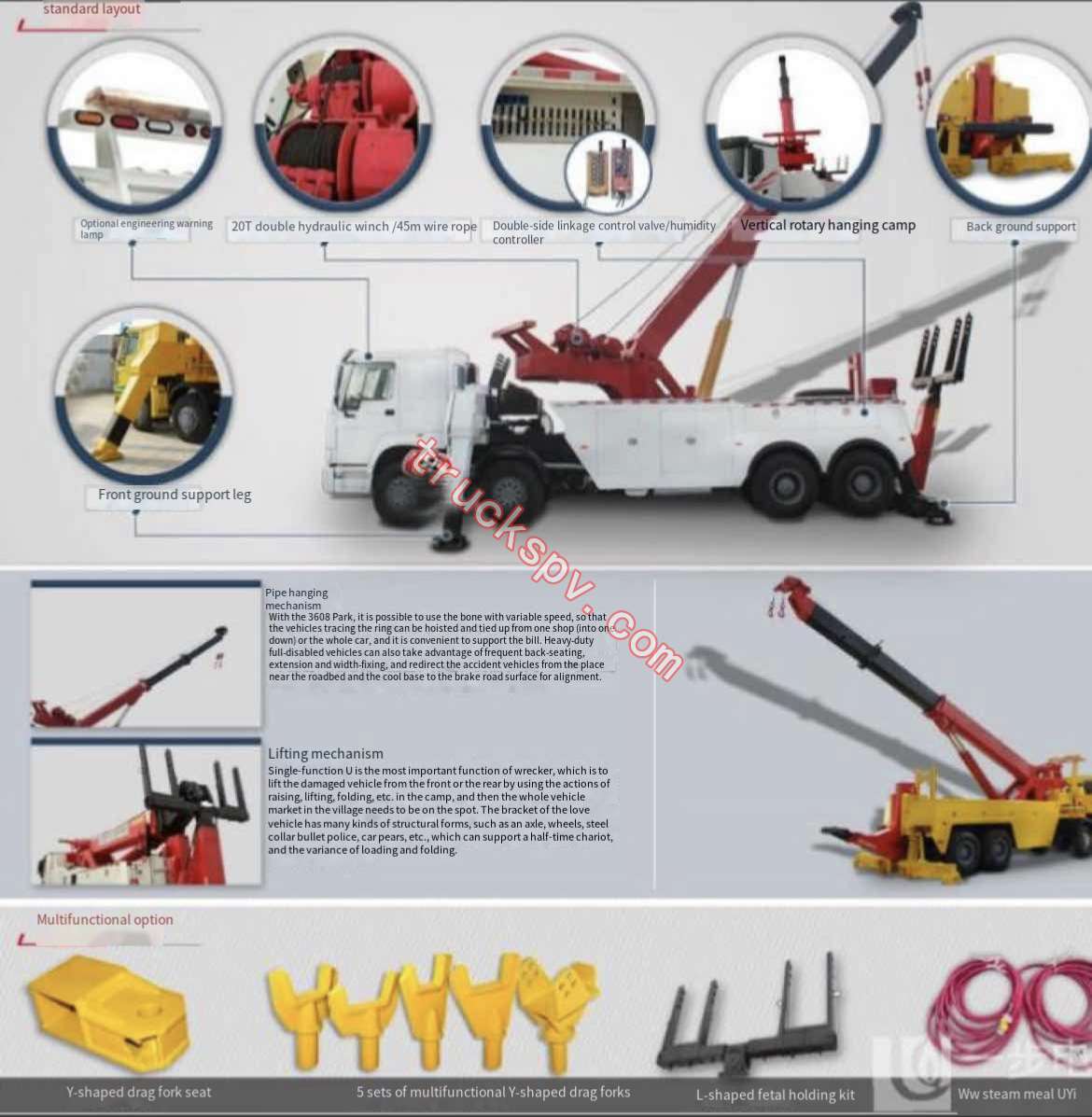 Questions of our clients often asked
What does heave wrecker tow truck means?
For rescue or plunder , a towing truck clean the block road broken cars or parked equipments.
Why is this truck called wrecker ?
The wrecker with hydraulic lifting jib named in 1916 year , it had ropes, winch .under towing equipment .
What is the difference between a wrecker and a tow truck ?
a two vehicle winch can tow or haul a equipment , but a wrecker can recover the vehicles , sometime people call the wrecker as a towing truck , but in truth a towing truck can not be called wrecker .
How to buy a good tow truck ?
Find a factory like us.
Where can be rented one wrecker truck ?
Call us ,we will offer tel who near by you .
Welcome you come to china and visit our factory to inspect our rotator shacman  tow vehicle.
Contact us 0086-18727992788