6X4 20CBM HOWO compactor garbage truck
The compressed garbage truck also named(HOWO rubbish truck , waste tranport truck ,HOWO compression garbage truck ,sanitation truck, sanitation vehicle ,HOWO compactor garbage truck, waste compactor truck, garbage compactor truck , HOWO compacted rubbish truck )
It is composed of a sealed garbage box, a hydraulic system and an operating system.
The whole vehicle is fully sealed, and all sewage in the process of self-compression, self-dumping and compression enters the sewage tank, which completely solves the problem of secondary pollution in the process of garbage transportation and avoids inconvenience to people.
Imported parts have the advantages of high pressure, good sealing, convenient operation and safety.
Optional rear hanging bucket
Optional rear hanging bucket overturning mechanism or garbage bucket overturning mechanism.
Chinese name Compression garbage truck Constitutes a sealed garbage compartment, hydraulic system Advantages High pressure, good sealing, easy operation Disadvantages Large operating noise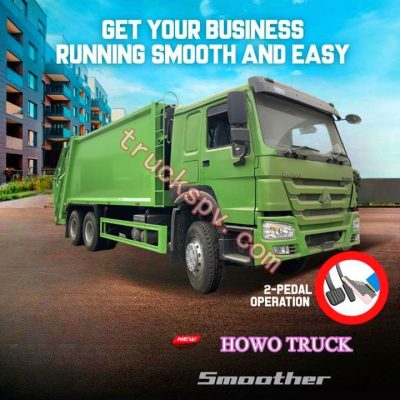 Vehicle information list
Truck brand
Sinotruck left hand drive
Truck model
CLW5257GJYZ
Total mass
25000
Garbage body size
20m3
Rated mass
14000
Vehicle size
10200×2500×3600
Curb weight
10870
Cabin seat
2
A/D angle
16/11
F/R hang
1500/2750,1500/2725
Axles
3
Wheel base
5350+1400
Axles loading
7000/18000/18000
Max speed
80
Ground clearance
450mm
Chassis information list
Chassis model
ZZ1257N4647C
Tyre quantity
10
Tyre size
11.00-20 18PR
Leaf spring quantity
10/12,4/12
Front track
2022,2041
Fuel type
Diesel
Rear track
1830/1830
Standard
Euro III
Engine model
WD615

336HP

Water cooled

Displacement/power
9726ml/247kw
Standard
Euro II
Garbage body information
Garbage body volume
20m3
Garbage thickness
5mm
Operation control system
Electrically hydraulic
Engine type
Euro 3 WD615,336HP ,Water cooled , sino,water cooled, in line
Cylinder
6
Transmission
10-speed with over drive
Electric system
24v
Equipment
1.Equipped with hermetic dustbin,hydraulic system and operating system

2.Automatic compress and uninstall,sewage can be collected by the dump tank.

3.Pressure is large,leak proofness is good,operation is convenient and security is demendable

Paint
Sand blasting processing on rust cleaning;
One coat of anticorrosive;
Two coats of finish urethane paint;
Color as customer choice.
garbage truck structure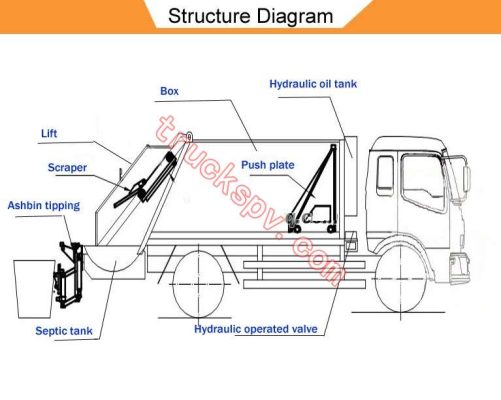 Advantage of the compressed garbage truck 
●The method of garbage collection is simple: the old and messy appearance of garbage cans on the streets of the city has been changed, and secondary pollution has been eliminated.
●High compression ratio and large loading capacity: the maximum crushing pressure is 12 tons, and the loading capacity is equivalent to two and a half times that of the same ton of uncompressed waste.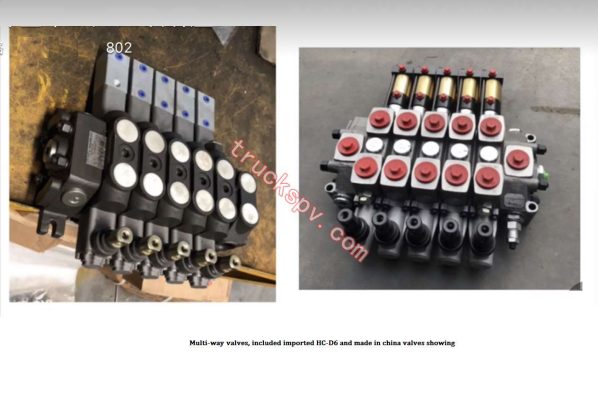 ●sanitation truck Operation automation: The computer control system is adopted, and the driver is required to operate all the loading and unloading operations.
Two operation modes, automatic and semi-automatic, can be set, which not only reduces the labor intensity of sanitation workers, but also greatly improves the working environment.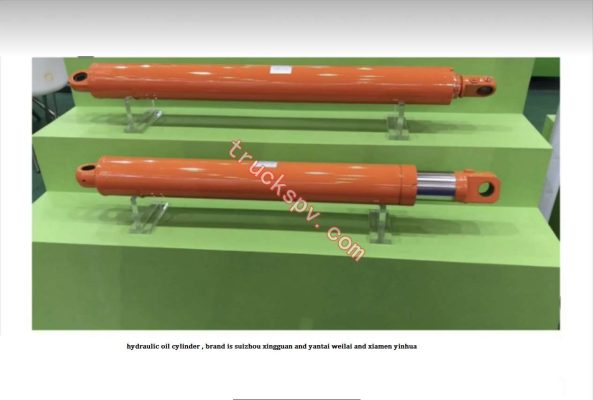 Question of the howo rubbish truck 
How the garbage loading into the sinotruk howo sanitation truck ?
The rear filling system has one auto garbage bin ,it can filling garbage directly .
How the waste thing compression well?
Our garbage vehicle has big pressure for it .
How much does a sinotruk howo sanitation truck cost ?
It is according your compression garbage  truck size .
What kind of garbage will be loaded?
Construction waste and life waste all ok .
●Good economy: When the sanitation truck special equipment is working, the computer control system automatically controls the throttle.
●sanitation truck Double insurance system: The operating system has dual functions of computer control and manual operation, which greatly guarantees and improves the utilization rate of the vehicle.
●Turning mechanism: optional configuration with garbage cans (or buckets) inverting mechanism.
Where has rubbish? where has our HOWO compression garbage truck !
Call us now !0086-18727992788