cheap price factory 50000Liters oil semitrailer
carbon steel oil semitrailer named clw oil tank trailer , clw fuel semitrailer , oil trailer,fuel transport truck, gasoline delivery tow truck, diesel transportation semitrailer , tank lorry , head tank carrier , chemical truck, soil vehicle ,tanker transport oil  .
oil tanker semitrailer adopt high quality SS304 stainless steel and made by advanced automatic arc welding , the welding line looks smooth and beautiful , the important is our stainless steel trailer all got european certificate ,CCC, ADR, SGS,BV ,COC etc .
Before leave my factory , each tank trailer must make air tightness and water pressure test to check the tank sealed . tank vehicle normally use for transport crude oil , diesel ,gasoline , food grade liquid oil, cooking oil , soil ,waste fuel ,
Main specific of the crude oil semitrailer 
50m3 tanker oil trailer information list
GENERAL INFORMATION
Description
Cylindrical tank in carbon  steel with 3 axles
Transportation
Crude/biodiesel/nafta
Capacity 
50m3+/-3.5% expansion
Weight
8900 kg +/-3.5%
Height
3900mm
Width
2500 mm
Length
12990 mm
TANK 
Material 
Q235 carbon steel  for diesel, gasoline,crude oil, fuel ,chemical
Body 
5mm
Lids/cover 
5mm
Breakwater 
5mm ,6 waterbreaker
Geometric of the tank
Cylindrical
Manholes 
1 compartments of 20'' and hatch of 10'' with relief valve
CHASSIS 
Frame 
steel
Hook plate 
Manufactured in thickness of 3/8''
King ping 
50#
ACCESSORIES 
Stair
Install in the front part or rear , manufactured in SS304 stainless steel of high resistance with slip-resistant steps
Corridor or walkway
Non-slip walkway along the tank
General assembly security team
Lateral protection
2 bikers installed on either side of the tank
Extinguisher holder
Two fire extinguishers installed as following: one at the driver's side next to the skate, and another next to the passenger side on the back side of the drawer valve
Bumper 
Reducing impacts manufactured in structural steel of 1/4''x4''
Compacts
compacts installed: 2 in the front part and 1 in the rear
Dust guard  
2 dust guard of rubber
Painting 
Chassis paint of gray color (possible another color by future request)
Lights 
  6 side lights on each sideTurn signals (2)

Backup lights (2)

Stationary lights and brake(2)

Plate light (1)

Rear hook 
Reinforced to pull tank in an emergency
Structure of the oil semitrailer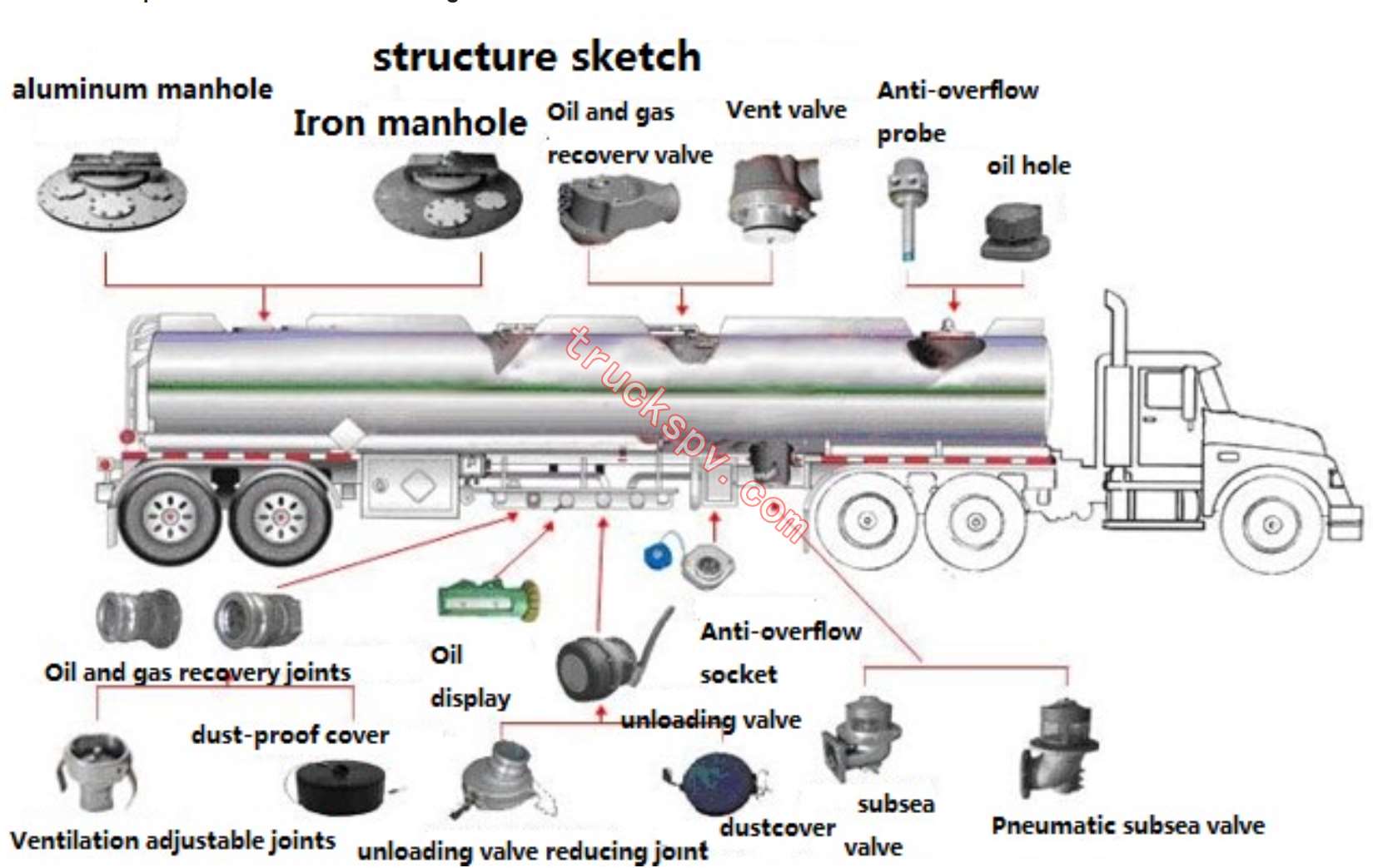 parts for the fuel semitrailer
Advantage of our tank trailer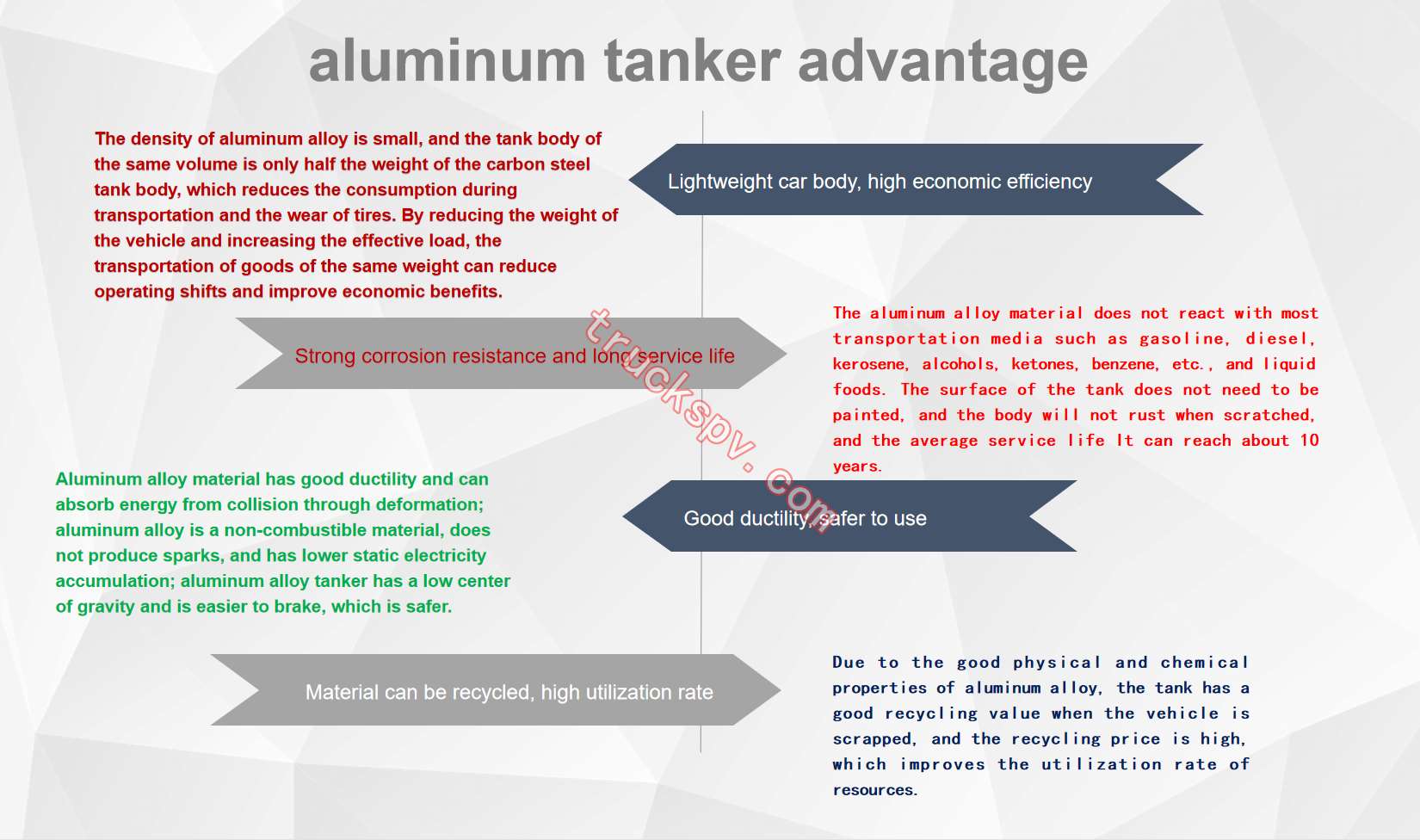 What is a fuel tank semitrailer?
Made one tanker and fix it on the chassis ,then tow a head ,then transport fuel .