40000Liters food grade milk tank trailer
milk tank trailer is a heavy semi trailer vehicle used to delivery milk from one point to another point. milk trailer named milk semi trailer,milk tank semi trailer , milk tanker semitrailer ,keep temperature milk trailer, milk transfer trailer, milk transport trailer, fresh milk transportation semitrailer ,  frozen milk delivery vehicle trailer. loading milk car , milk tanker lorry .
The milk transport trailer inner is made of 304-2B food grade stainless steel ,it is cold -rolled plate , the milk truck welded by argon arc welding , the welding line is polished smooth without sharp angles ,the tanker truck has CIP cleaning inside each compartments . easy to clean the tanker inside .
The tank has insulation layer ,thickness is 80mm, material is polyurethane foam , use it can keep the milk temperature does not change with 24hours .
Out side tanker use 201 stainless steel wire drawing board , and it also will be painted .
Main information of the food milk tank semitrailer
Carrier 3 axle container semi-trailers
Chassis
Made of food SS304 steel
Axle
3×13 tons ,Fuwa axles .
Suspension system
Spring suspension,-7/7/7
Brakes system
Air brakes system
Lifting Jack
The capacity is 28tons each
Tires
315/80R22.5 ,12 pieces
Rims
80
Fenders
Plastic
King pims
90#
Electric system
24V electrical system
Accessories
1 unit installation fridge

1 unit food cupboard

1 unit buffer

1 unit water tank

1 unit spare tire carrier basket

1 unit wheel chock and the conncction

1 unit fire extinguisher cabinet

Trailer information list
Name
Unit
Parameters
Tanker trailer brand
CLW
Tanker model
CLW9400
Tanker volume
L
40,000
Tanker material
Stainless steel SS304 food grade
Tanker thickness
mm
5
Tanker head thickness
mm
6
Breakwater thickness
mm
5
Tanker vehicle size
11000×2,500×3,900
Tanker DD
2,500
Manhole diameters
mm
500
Manhole height
Mm
250
Compartments
Pcs
3 independent compartments
Out-put
''
3''
In-put
''
3''
King pin
#
50  or  90
Axles NO
Pcs
3
Axles brand
/
'FUWA'  famous brand
Axles loading
kg
13000kg per unit
Legs NO
Pcs
2
Legs loading
kg
28000
Anti-static tape
Pcs
1
Frame material
Carbon steel wuhan steel
King ping
Of 2'' bolt 50#
Axles and suspension
3 axles brand FUWA 13 ton: leaf spring suspension with three axles
Brakes
Yes
Corridor or walkway
Non-slip walkway along the tank top
Tyre carrier
Pcs
2
Lateral protection
2 sets strong steel installed on either side of the tank
Extinguisher holder
Two fire extinguishers installed as following: one at the driver's side next to the skate, and another next to the passenger side on the back side of the drawer valve
Bumper
China standard
Electric EQ
Light 6sets
Dust guard
2 dust guard of rubber(include our brand)
Painting
Primer + topcoat (you can choose color as you want)
Rear hook
with
Warranty
12months

Structure of the milk semitrailer
Parts of the tanker semi trailer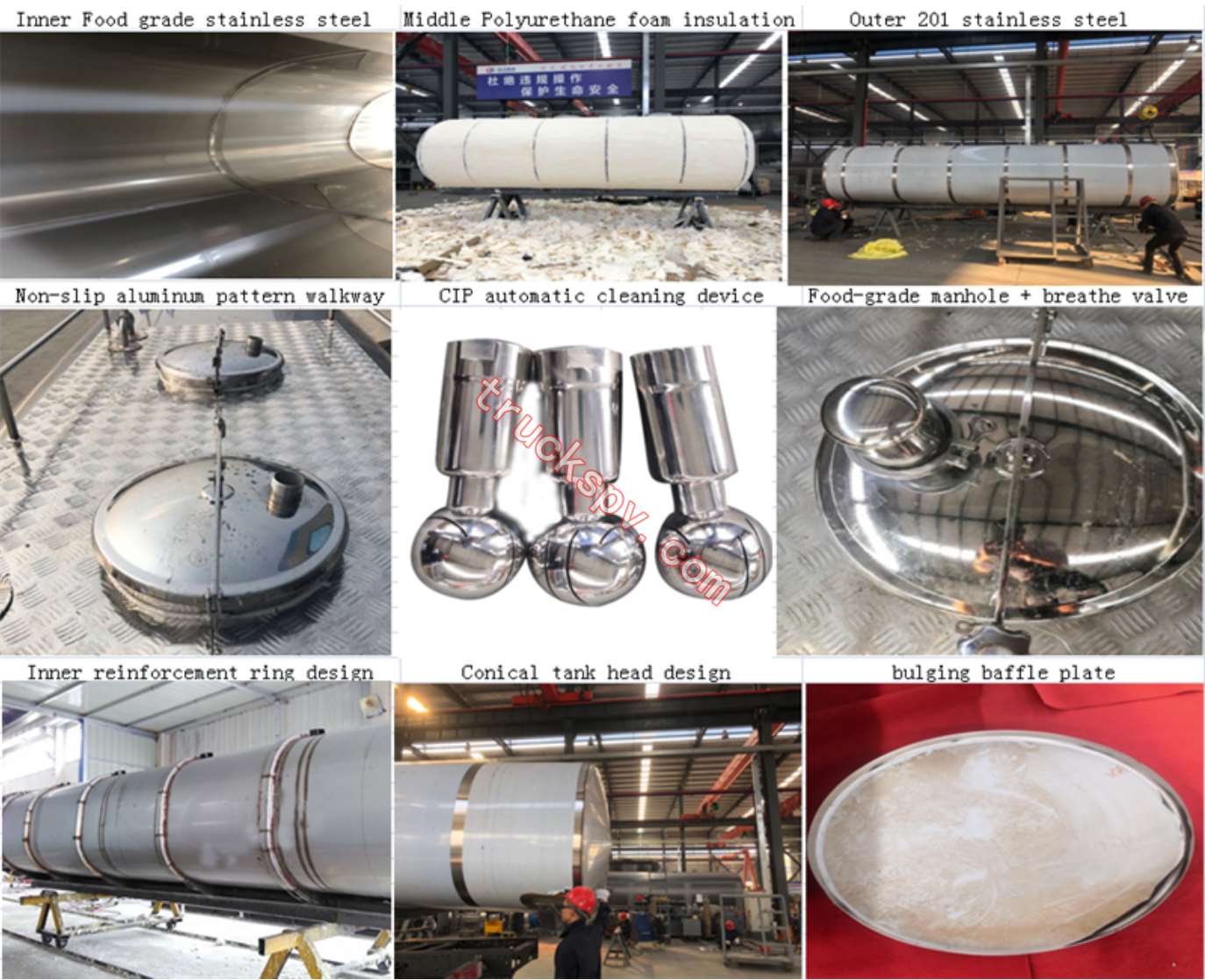 Question of the food grade tanker trailer
How the fresh milk loading into the milk tank delivery trailer ?
The fresh raw milk cooled to 4 C is injected into the tank through the milk pump to realize the heat preservation and transportation of the fresh milk to milk enterprise for processing .
How the milk transportation trailer keep milk well?
our milk truck keep temperature advance the milk temperature change 1 to 2 C only within 24hours .
How much does a HOWO milk trailer vehicle cost ?
It is according your tanker truck size .
What kind of tanker trailer carries milk?
Need a tanker truck with CIP cleaning system
Welcome you come to china and visit our factory!