HOWO 4×2 water sprinkler sweeper
HOWO water sprinkler sweeper named HOWO water tank sweeper,howo 4×2 water bowser sweeper, HOWO water sprayer sweeper ,SINO water cart sweeper ,SINOTRUK water carrier sweeper , SINO track water lorry sweeper .HOWO reduce dust suppression , HOWO delivery water tanker ,HOWO tanker truck , transport water lorry ,etc
Function of this HOWO water sweeper sprinkler
It suit guardrail washing , transport waste water , pure water , drinking water , the water sink  is suitable for clean various road , trees , green belts , factory and mining enterprises , high -altitude building , construction site,and it has two sweeper brushes installed at the front of the truck.
—-Chassis is SINOTRUCK HOWO with yuchai engine
—-Tank is made by carbon steel or stainless steel ,alloy
—-Tanker size 5,000Liters to 10,000Liters .
—-Easy parts
—-Long time warranty
Main specific of the HOWO water sprinkler sweeper
SPECIFICATIONS
Important specific
Engine model : CY4102BZLQ  Engine horsepower:116HP

Engine standard:euro 2

Tanker material :carbon steel

Tanker volume:8000Liters(8tons)

Brand
Sinotruk water truck
Drive
Left hand drive
Emission standard
Euro 2
DIMENSION & WEIGHTS
Overall dimension (mm)
Bigger: 7800*2200*2780
Tanker
Volume
10,000Liters
Material
Carbon steel
Thickness
4mm
The maximum speed(km/h)
90
Wheelbase (mm)
 3800
Loading weight(kg)
8000Liters
Curb vehicle weight (kg)
 6200
Number of leaf spring pieces(Front/ Rear)
8/9+6
ENGINE
Model
Bigger: CY4102BZLQ  120HP
Type
Diesel
Tire
Specifications
Bigger:8.25R16
Quantity set
7 Includes a spare tire
Main specific of the howo 4×2 water bowser 
HOWO water tank sweeper Tank Description
1. Shape: Oval2. Material:carbon steel tank

3. Thickness;4mm

4. Left hand drive

5. 3 baffles

Performance description
Vertical Suction ≧ 7 meters
sprinkler width ≧ 14-16 meters
Watering a range of ≧ 28-30 meters
Suction the water time <5min
Pump flow of 90m3 / h
Pediment (spray), then sprinkle with side spray (shower), with rear work platform, platform installation green sprinkler artillery (gun adjustable spray shapes: straight, heavy rain, moderate rain, drizzle, mist, can be continuously adjustable, 360 ° rotation), the interface with the fire, gravity valve, strainer, with self-absorption self-row functions.
details parts of the street sweeper
1. The sweeping and vacuuming system of the road sweeper is equivalent to 6-40 times the labor;
2. Reduce the degree of dust pollution to the environment
3: ISUZU wet sweeper vehicle combined water tank and sweeper function, when you clean road, there can spraying water on the road , do that can reduce dust .
Structure of the HOWO water bowser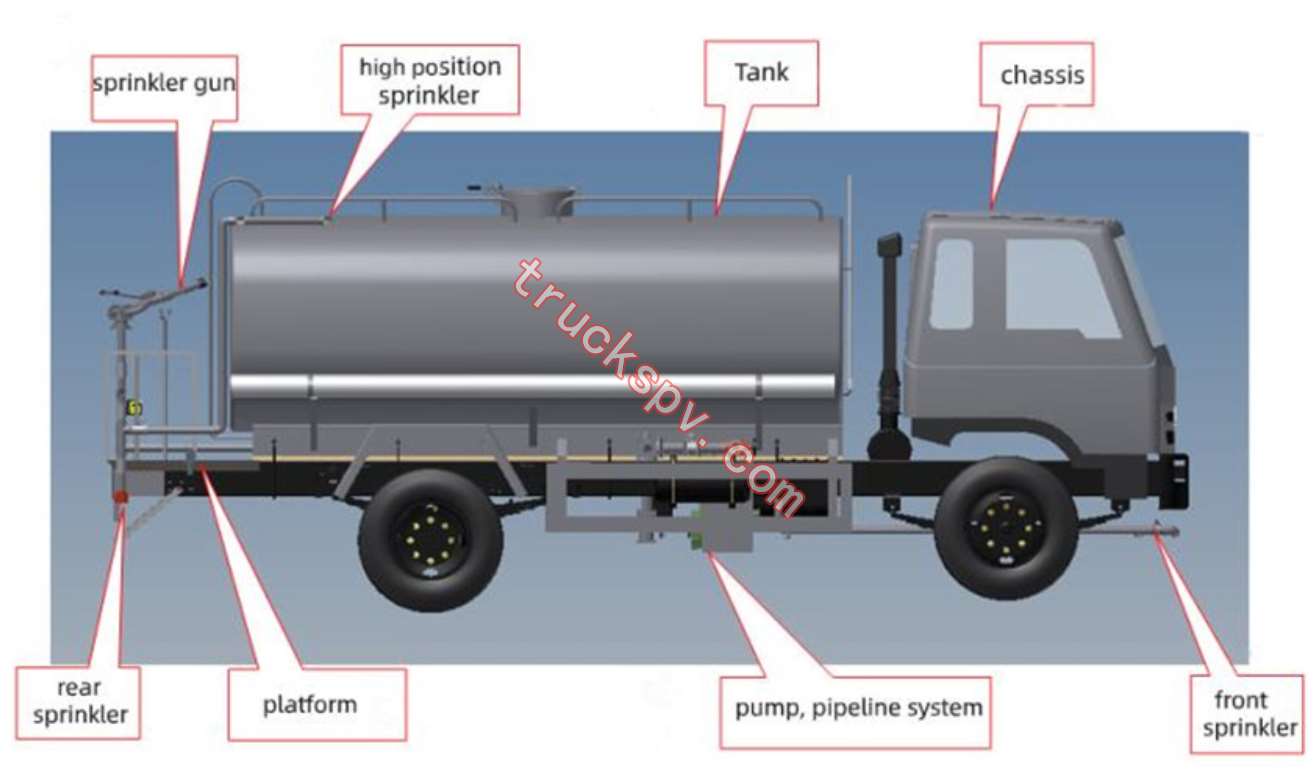 Details parts of the sinotruk delivery water lorry
More details of the SINO water cart sweeper
Questions of HOWO water tanker sweeper 
What are water trucks used for ?
The chassis equipped with large tankers in rear fro transporting water and use hydraulic system controlled spray , nozzle for spreading water .
What size is a transport howo water bowser sweeper?
It accords the truck size.
How much water is in a water tanker ?
It accords the tank size .
How to buy a hot sales HOWO tanker truck sweeper ?
Find a factory like us .
HOWO water tank for sale /new water tankers
Welcome you come to china and visit our factory to inspect our HOWO water lorry sweeper .
Contact us 0086-18727992788