4×2 ISUZU street vacuum sweeper
ISUZU street vacuum sweeper ,ISUZU vacuum street sweeping truck named ((1)ISUZU street pure sweeping truck (2) ISUZU road vacuum Suction sweeper (3)pure suction vacuum street sweeper (multifunctional full vacuum suction street sweeper) (4)dry vacuum street sweeper (vacuum truck) (5)wet street sweeper (6)full suction street sweeper)Sweeper truck, ISUZU vacuum road sweeper .
ISUZU street vacuum cleaner  as one of the sanitation equipment, is a new type of high-efficiency cleaning equipment that integrates city way  cleaning, garbage recovery and transportation.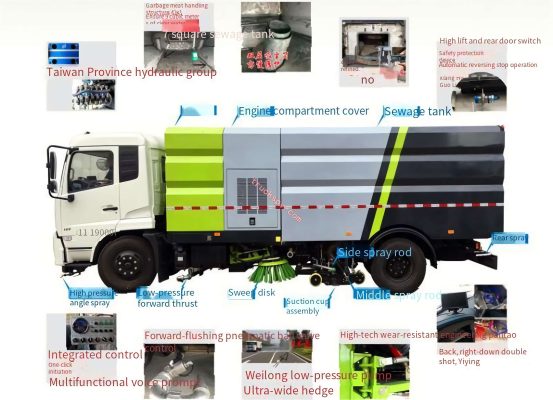 Advantage of the ISUZU vacuum sweeper truck
The road sweeper can complete the work of ground cleaning, road curb cleaning, road curb cleaning and watering on the ground after cleaning. , cleaning and dust removal in parking lots, docks, airports, stations, cement plants, power plants and other places.
information of the ISUZU vacuum street cleaner truck
Details
Truck model
/
ISUZU
Chassis model
/
700P ISUZU
Vechicle size
(mm)
6760×2290×2920
Dumping angle
(o)
≥45
A/D angle
/
24/13
F/R hang
(mm)
1015/1385
Total mass
(Kg)
6961
Rated mass
(Kg)
1806
Curb weight
(Kg)
5025
Max speed
(km/h)
100
Axles
/
2
Wheelbase
/
4175mm
Wheel loading
/
2228/4733
Steel spring NO
/
8/6+5
Tyre NO
/
6
Tyre size
/
8.25-20
Front tread
/
1504
Rear tread
/
1425
Engine
Model
4KH1-TC51
Power
140
Horse power
190HP
Auxiliary engine
Model
JX493G
Equipment
Cleaning width
≥3-3.3 m
Sewage water tanker volume
1.5m3
Garbage box volume
8m3
Working speed
3~15 km/h
Maximum grain size and quality
100 mm\±1.5kg
Cleaning rate
≥96%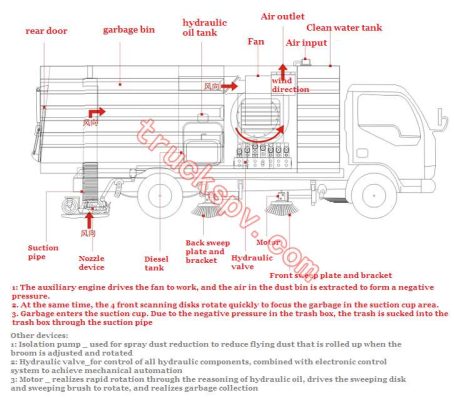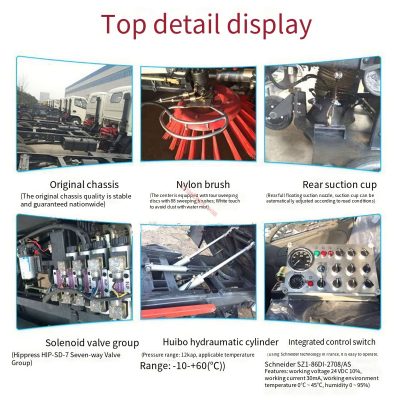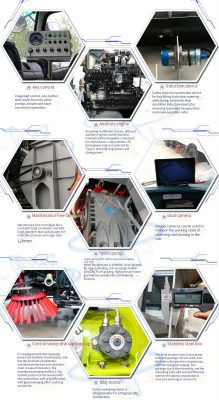 details parts of the ISUZU vacuum road sweeper truck
1. The sweeping and vacuuming system of the road sweeper is equivalent to 6-40 times the labor;
2. Reduce the degree of dust pollution to the environment
Advantage of cleaning street vehicle
Features of the multifunctional full suction road sweeper
The multifunctional full suction road sweeper is a new product developed with patented technology.
It has changed the traditional way of sweeping with disc brushes in the past, and all uses airflow to complete the operation. , The dust and garbage are collected and stored by air movement, so the efficiency is very high.
The product can effectively reduce dust pollution, improve air quality, reduce the content of inhalable particulate matter in the air, and improve people's living environment.
Features:
Full suction dry road sweeper.
All operations are completed with air flow, combined with blowing and suction, and there is no secondary dust. ·
No brushes and no water, energy saving, dry suction type, once the car passes, the ground is clean. ·
Good cleaning effect.
From tens of microns of dust to general small stones, leaves and other debris can be effectively removed, the cleaning efficiency is more than 98%, it can be said that "sweeping ten times is worse than sucking once".
· Simple structure, few wearing parts, convenient use and maintenance, and simple operation. · Low maintenance cost.
Where has road? Where has our pure sweeping road sweeper !
Give us a call now!0086-18727992788