4X2 outdoor ISUZU LED billboard truck
ISUZU LED billboard truck is one kind communication medium that combined the stage functional ,it named ISUZU LED video truck advertisement,ISUZU LED advertising truck ,ISUZU LED stage truck ,advertisement propaganda truck,ISUZU video van  ,LED displaying lorry, outdoor display LED lorry.
Other name : LED displayer van.portable LED truck media .moving billboard vans, moving screen track ,LED track for sale, mobile billboard event truck,LED media vehicle .mobile video vans .LED screen mounted on lorry .mobile LED vehicle with hydraulic lifting system,LED TV vans,screen show shopping truck
Simple introduce of the LED advertisement truck
LED vehicle has large scale LED display and three dimensional video animation , real time sowing of graphic advertising ,it can be used for on-site display , communication, outdoor TV showing , activities and media showing and wide range of publicity , which will effectively advertising your products quickly .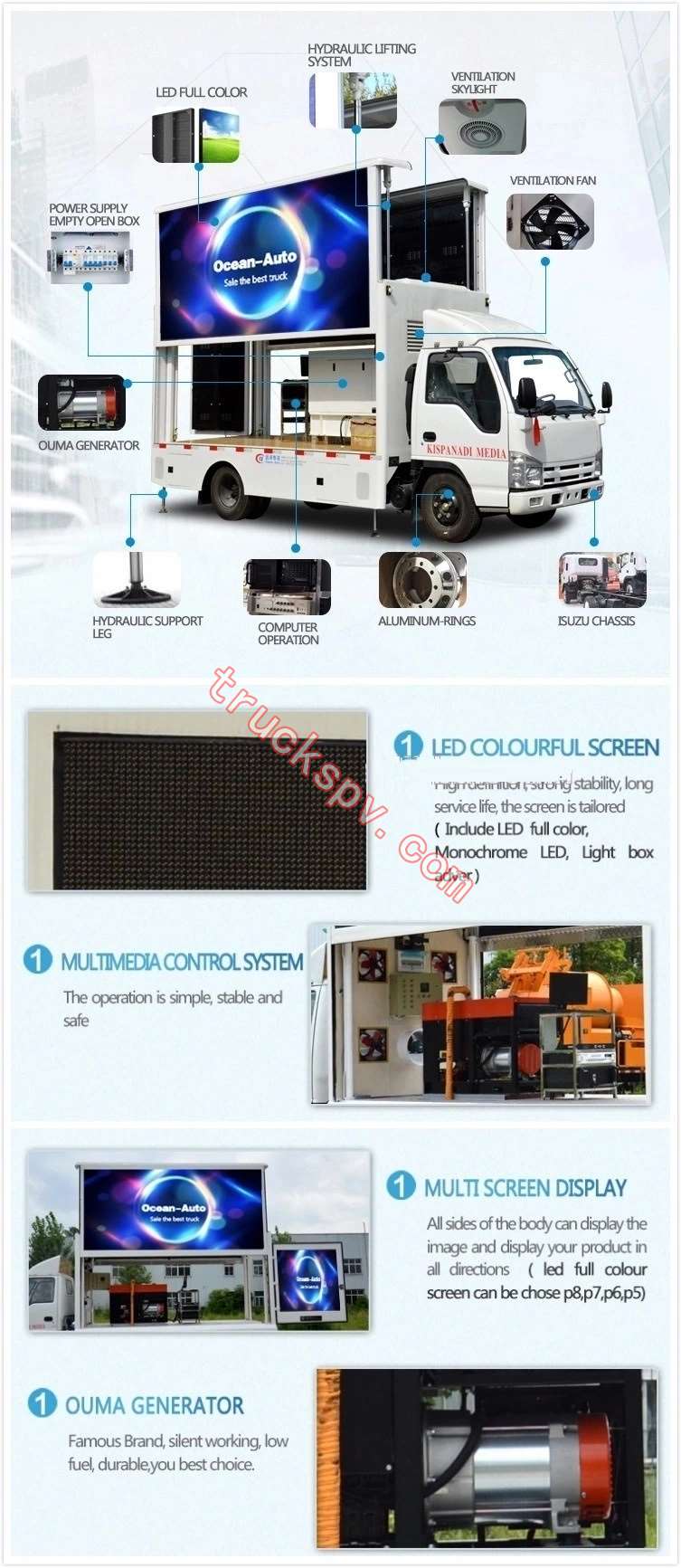 High light of ISUZU LED advertising vehicle
—-Use ISUZU chassis for LED displaying lorry
—-Easy parts
—-Adopt P4,P5,P6,P8,P10 screen
—-Customized functional ,such as ,add stage , add lifting screen .
Main parameter of the LED screen truck 
Vehicle information list

Brand
ISUZU
Trucks name
100P ISUZU
Total mass
7300
Curb weight
2800
Vehicle size
6665×1880×2580
LED size
Left and right side 4480X1920mm
LED type
P4
 
Back side 1760x1760mm
LED light
Three
Cabin seat
2
F/R hang
1015/1575
A/D angle
24/16
Wheelbase
3815
Leaf spring quantity
8/6+5
Tyre size
7.00-16
Axles
2
Front track
1504
Tyre quantity
6
Rear track
1425
Axles loading
1.5tons/2tons
Max speed
95
Frame
172*65*4+3mm
Transmission
ISUZU MSB
Brake
Oil brake with vacuum pump
Air condition
Yes
Engine
4KH1-CN5MD,2900ml displacement,115Hp horsepower

Max torque :277N.m

Remark :this one is  ISUZU truck with 115HP engine ,wheelbase is 3815mm
LED screen showing 
P4 LED parameter
Product model: P4 outdoor full-color LED display

Pixel pitch: 4mm

Pixel density: 62500 dots/square

Pixel composition: 1R1G1B three in one

P4LED module size (mm): 256*128mm

P4LED unit board resolution: 64*32=2048 points

White balance screen brightness: 7000cd/m²

Viewing distance (m): 4—150m

Module power (w)≤32.5W

Number of modules per square: 30.5

High power: 1100W/㎡

Average power consumption: 400W/㎡

Scanning drive mode: 1/8 scan, constant current drive

Display interface: VAG+DVI display card

Control operating system: WIN2000, XP computer + control software and hardware + playback software and hardware

Viewing angle: horizontal: 140°, vertical: 140°

Connection mode: synchronous connection with computer (sending card + receiving card)

Display content: video DVD, VCD, TV, images, text, animation, pictures and others

Gray level: 16384 levels

Refresh frequency: >4000Hz

Generator
20KW OUMA  brand
Electric system
Standard section:Button control and operate system (standard)
LED displaying lorry cpu
Deluxe section: CPU control and operate system (optional)
VIP section: touch screen, wireless,upper computer control and operate system(optional)
Question of the LED truck 
Whats kind of truck called LED truck?
The answer is mobile screen billboards truck
How the mobile digital LED truck working  ?
It has 1 side or 2 side or 3 side LED screen , inside has computer , video showing on the computer and same outside screen also .
How much does a advertising truck cost ?
It is according your  truck size .
How to buy a good media led turck ?
Find a factory like us .
How many kinds of LED advertising truck we can produce ?
1.Main product series:
LED screen truck with 1 screen;
LED advertise truck with 2 screens;
LED billboard truck with 3 screens;
LED advertisement track with 4 screens;
LED truck with dancing stage;
Led truck will billboard;
LED truck with hydraulic lifting screens.
2.Screen types:
outdoor mobile full color screen P3,P4,P5 and P6;
indoor RGB full color screen P3,P4,P5 and P6;
single red color screen
3.Screen size:
normally it is according the chassis size , but the important is we can customize according to client's needs.
Mini size model: 
P3/P6 screen size: 2304mm*1536mm=3.53m2
P4/P5 screen size: 2560mm*1440mm=3.68m2
Rear single red screen size: 960mm*1280mm
Small size model: 
P3/P6 screen size: 3072mm*1536mm=4.7m2
P4/P5 screen size: 2880mm*1600mm=4.6m2
Rear single red screen size: 960mm*1280mm
Middel size model:
P3/P6 screen size: 3840mm*1728mm=6.63m2
P4/P5 screen size: 3840mm*1760mm=6.75m2
Rear single red screen size: 1280mm*1440mm
4.Generator:
According to the screen size, we can adopt 6.5KW-12 KW YIHU brand gasoline generator or 15-25kw OUMA brand super silent diesel generator.
5.Truck chassis:
DONGFENG,FOTON,FAW,SINOTRUK HOWO,JAC,JMC, I S U Z U,,4×2,6×4 ,8×4 ,10×6 ,4×4 ,6×6,8×8 etc.
Ps:
We also accept order with truck chassis size.
6.Steering wheel:
Both LHD and RHD,fit different countries.
7.Emission standard:
Euro two,Euro three,Euro four,Euro five or Euro six.
Welcome you come to china and visit our factory to inspect our ISUZU billboard truck.
Contact us 0086-18727992788