8×4 ISUZU GIGA refrigerated van truck
ISUZU GIGA refrigerated van truck named ISUZU refrigerator van truck,ISUZU Thermo king refrigerated lorry ,ISUZU Thermo king refrigerated lorry,ISUZU chiller van truck,ISUZU frozen box truck,ISUZU cold room truck .
Multipurpose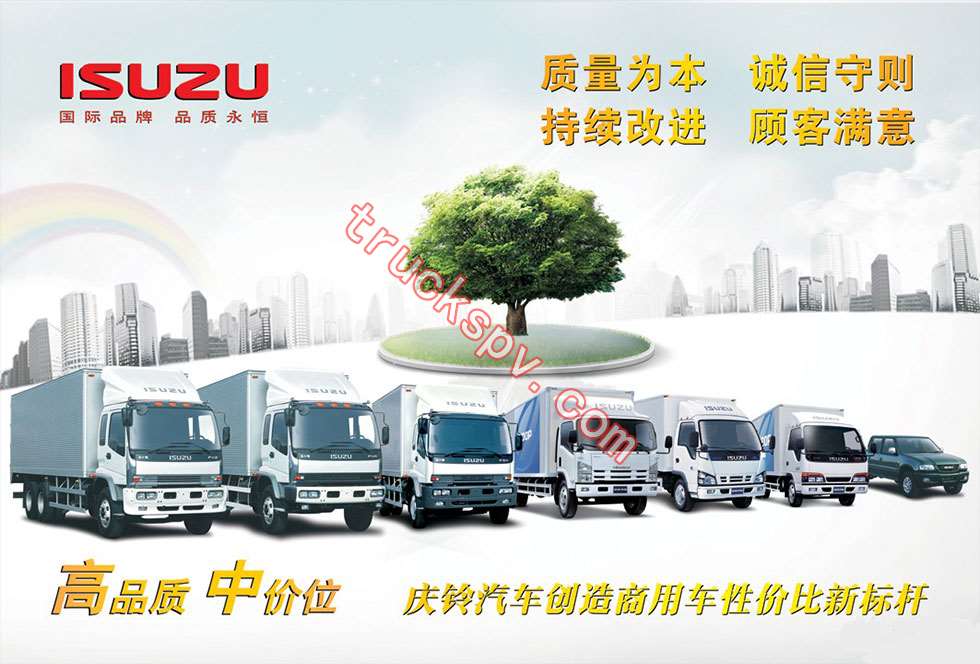 Modifications
Postal vehicles, urban logistics vehicles, refrigerated vehicles, Modifications: hook-up garbage trucks, municipal climbing trucks, boarding trucks, etc. for environmental sanitation, municipal administration, airports, etc
ISUZU Refrigerated truck:
Refrigerated trucks are used to transport frozen or fresh goods of the closed van, refrigerated trucks are equipped with refrigeration units and refrigeration equipment, polyurethane insulated car for refrigerated transport vehicles, refrigerated trucks can be by the manufacturer, chassis carrying Ability, type of car to classify.
Useful
Refrigerated trucks are commonly used in the transport of frozen food (frozen cars), dairy products (milk transport vehicles), fruits and vegetables (fresh truck), vaccine drugs (vaccine carriers) and so on.
Specification
Wheelbase
mm
1850+4575+1370
Drive type
8×4
Max GVW
kg
31000
Engine
Model
6UZ1-TCG50
Rated power(Kw)
279
Max torque
180(1765)
Transmission
ZF8(model 8S2030TO)
Fuel tank capacity
400L
Cabin
Standard Roof
YES
Cabin Suspension
Spring
YES
Cabin Seat
Standard
YES
ISUZU refrigerated van truck body information
Cooling box Description
Cooling box dimensions (L×W×H)
8000*2240*2240mm
Cooling box Volume
40m³
Cooling box material
with vacuum pressed panel, Internal finish white gel coat FRP.

Heavy duty carborundum grit, non slip polyester resin floor, reinforced with min 1000 grm combination glass fiber matting coved to the walls to provide a watertight pan.

Cooling box thickness
800 mm
ISUZU chiller van truck Back Door
Hinged door
Side door
Optional
Refrigeration systems
Equipped with China Huatai Brand
Temperature Range
Normal temperature 25°C

,refrigeration temperature reached -18°C to 0°C

ISUZU Thermo king refrigerated lorry Others
Stainless Steel door frame,Stainless steel corrugated

floor, Mark lamp at the four (4) corners f the

body,Room lamp will be provided inside the cabin.

Box  Description
1. Shape:Rectangle

2. Material:FRP and color steel and Polyurethane foam insulation

3. Thickness:8cm

4. Left hand drive
1.internal- 4 elements, vacuum pressed panels, internal finish white gel coat FRP,                        2. External (2.2 mm white gel coat woven roving. All joint glued and urethane sealed, External corner capped with radiuses aluminum extrusions -).
Floor –heavy-duty carborundum grit, non sleep polyester resin floor, reinforced with minimum1000 grm combination glass fiber matting coved to the walls to provide a water tight pan
3.Rear frame – welded stainless steel (DP1 304) rear frame. Rear frame header incorporated rainwater canopy. Welded stainless steel (DP1 3040) side door frame.
4.Double rear doors- double rear doors with min 25 mm stainless steel door furniture and refrigeration furniture door seals. Door wear plated, door buffers and stainless steel door retainers are must be included.
5.Refrigeration unit –one carrier or equivalent, diesel powered refrigeration unit 3 PH mains standby to operate at temperature down to -18 degree© fitted with 12 volt battery and fed from the vehicle own fuel tank.
6.ISUZU cold room truck Internal Fittings:-In cab digital temperature read out 2 rows heavy duty, stainless steel load lock track,2 reassessed, cab-operated interior lights. Aluminum fridge evaporator guard .PVC Thermal strip curtains to rear doors, PVC Thermal strip curtains to side doors, 1 row of 225mm anodized aluminum rub rail.
7.ISUZU cold room truck External fittings:1. Mudguard and spray suspensions, aluminum cab catwalk, aluminum bulkhead access ladder, anodized aluminum side guard system, under run bar, rubber chocolate block buffers, side and rear marker lights, side and rear marker plates, single folding stainless steel and aluminum step, pull-out side step
ISUZU 4×2 Refrigerated box truck is closed van used to transport the frozen or fresh goods,and is also kind of special
transportation vehicle equipped with refrigeration unit device and polyurethane thermal insulation box.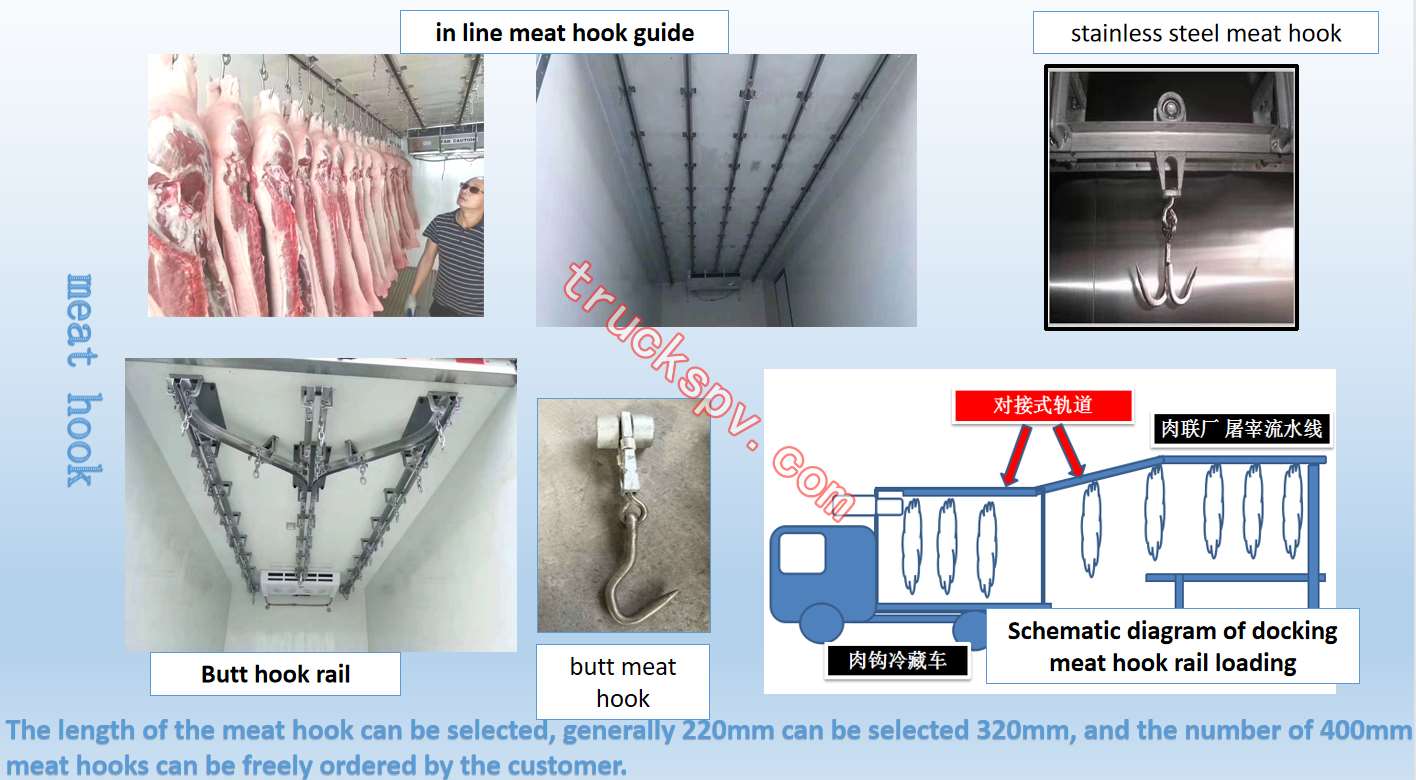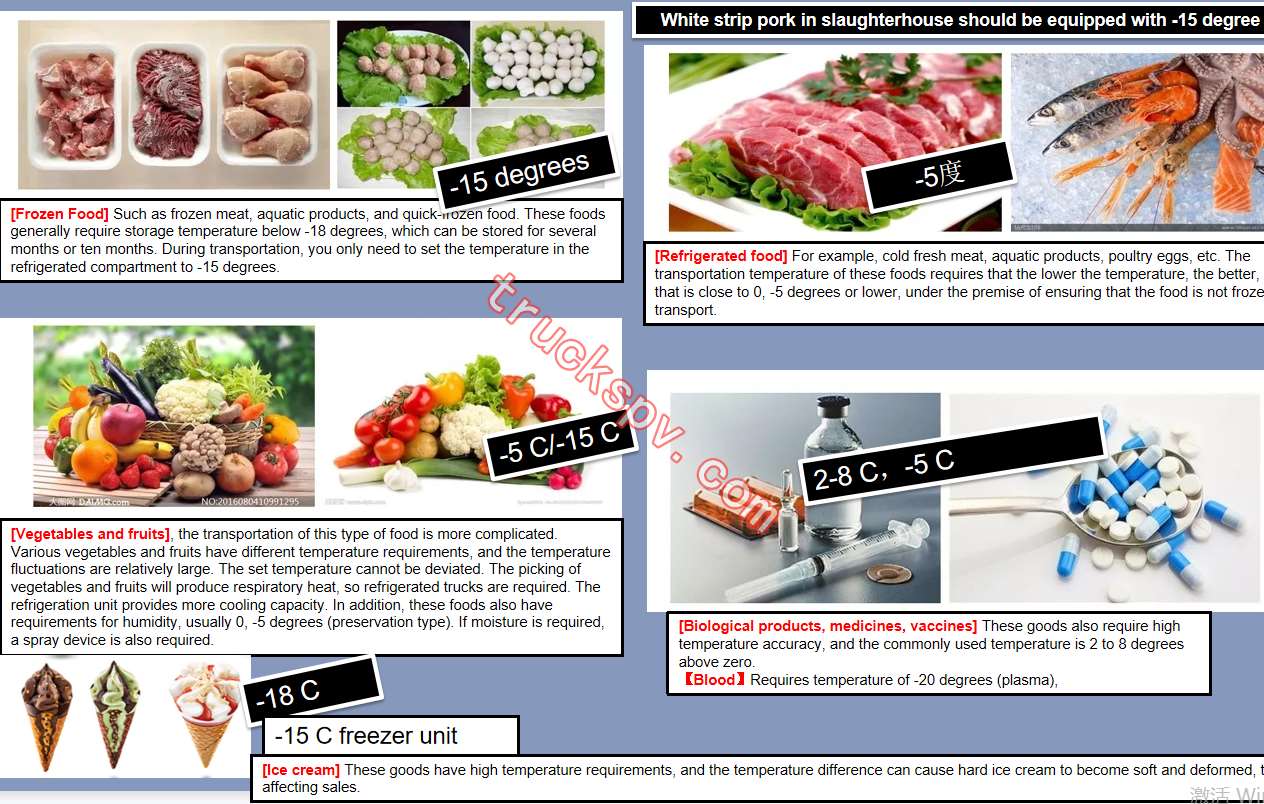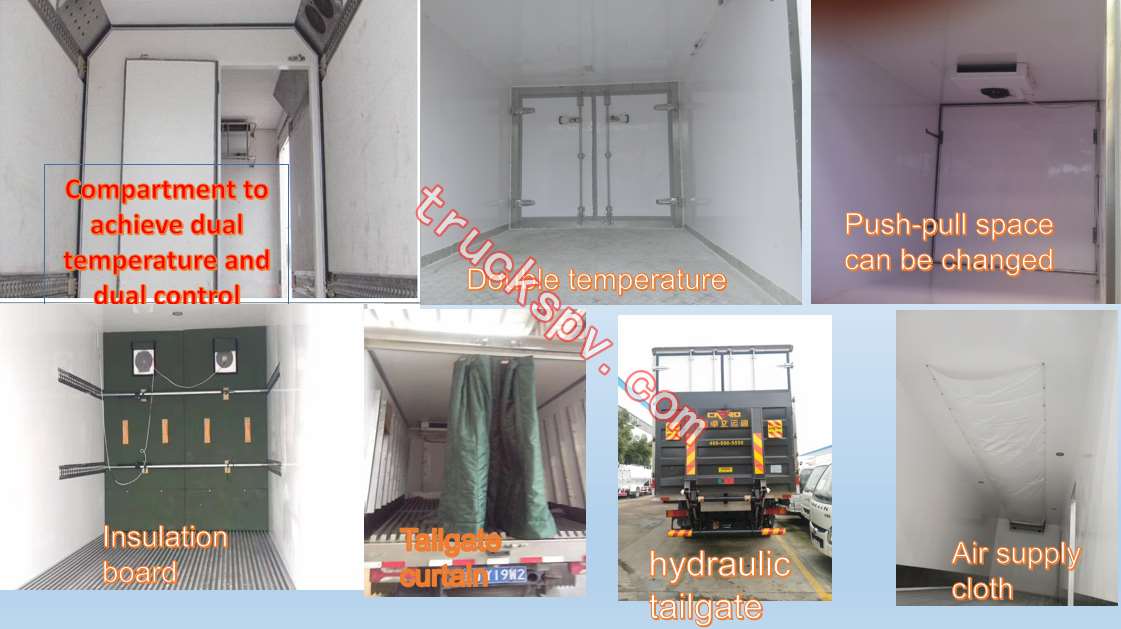 ISUZU refrigeration lorry truck Transportation category:
ISUZU chiller van truck is often used to transport frozen food, dairy products,  fruits and vegetables, vaccine and drug.
ISUZU van refrigerated lorry Construction:
ISUZU chiller box truck chassis,heat insulation box body,refrigeration unit,temperature  recorders in the carriage,for special
purpose,optional parts including meat hook,aluminum alloy rail,ventilation channel and others.
ISUZU chiller box truck Refrigeration suit classification:
non independent refrigeration unit,independent unit,the domestic units and imported units.Usually using
external refrigerator,for a few mini refrigerated truck,using internal refrigerator.
Choice for ISUZU reefer van truck insulated body:
good thermal insulation property,light weight,not easy to be damaged
Isuzu refrigerated truck for sale
Loading weight: 3310kg ISUZU frozen van truck
Car body material: the inner and outer layers are all glass fiber reinforced plastic plates, 8 cm thick
ISUZU freezer van truck  polyurethane foam in the middle,
1. There is one 1 meter side door,
2. The floor of the carriage is made of aluminum plate. With ventilation track
3. The compartment refrigeration unit is a Carrier-C500 non-independent unit, and the minimum
refrigeration temperature is -18 degrees. The Thermoking refrigerator can be replaced.
Q: How can we trust your company?
A: We are the officially authorized 4S dealer and distributor of some famous brands such as SINOTRUK, LONKING and
VOLVO. And we are registered in the Commercial Department of China, with the whole qualification for exporting.
Certificates including ISO9001 can also be provided.
Q: How about your warranty item?
A: We can support you with original spare parts, and email or telephone assistance in the following days. If necessary, our
experienced engineer can go abroad to your place for technical support.
Q: How about your product quality?
A: All our products are from the original manufacturers and the quality is 100% guaranteed.
Q:Can I be your agent in my country ?
A: It's OK if the order quantity is appropriate. We looks forward to long-term cooperation.
Other name
freezer truck, refrigerated van truck, cooling van truck, refrigerated freezer truck, van refrigerator truck, seafood refrigerated truck, ice cream refrigerated truck, refrigerated box truck, etc.
Give us a call now ! +86-18727992788