HOWO jetting pressure sewage suction truck
HOWO jetting sewage suction truck named HOWO jetting Vacuum Suction Truck, HOWO pressure jetting clean Sewage Treatment Truck,HOWO jetting Septic Tank Suction Truck, HOWO jetting Sludge Cleaning Truck
Function of HOWO flushing sewage truck
HOWO flushing jet Sewage suck tanker truck is a new type of sanitation vehicle that collects, transfers, cleans and transports sludge and sewage, and avoids secondary pollution. Liquid substances such as crude oil. The jetting sewage suction truck adopts the domestic technology-leading vacuum pump of the jetting pressure sewage suction truck, which has a large suction force and a long suction distance.
It is especially suitable for the suction, shipment and discharge of the sludge in the sewers, especially the sewage sludge, silt, stones and bricks. larger objects such as blocks.
HOWO  jetting Sewage vacuum trucks are mainly used for cleaning urban sewers, sediments in pipelines, and dredging of dead-end mud ditch. . choose
specific of the protable jetting sewer suction truck
Truck model
ISUZU
Model
QL1100TKARY
Vehicle size
(mm)
5995×2000×2350
Engine
Model
Euro 3 engine
Power
75
Horse power
98HP
More tanker equipment
Oily water separator, air water separator, special vacuum excrement suction pump,

pressure volume gauge,

pipeline system,

the sucking tube, flow valve, vacuum tank, a communicating device (as the dung window), automatic anti-overflow valve these parts

Tanker
Sewer tanker is 5000Liters
Vacuum pump
Vane rotor pump with 4-way-value
Suction tube diameter
108mm
High pressure water pump
Bentian brand
assembly
Oil-water separator,

gas-water separator,

Hydraulic self-unloading device,

Special vacuum suction pump,

Pressure volume table,

Pipe network system,

Aspiration catheter,

Gravity valve,

Vacuum tank,Connector ( depending on the dung window ),

automatic anti-overflow valve,
Structure of the HOWO jetting sewage truck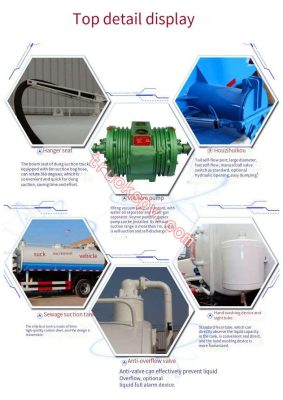 details of the HOWO jetting sewage truck
SINOTRUK HOWO 4×2
Chassis Model
ZZ1167M4617C
Driving Type
Left Hand Driving
Cabin
Sleeper cabin

HW76, single berth, two seats

Engine
Model
WD,615
Emission Standard
Euro II
Displacement/power
9726ml/247kw
Cylinder
6 pcs
Rated rotation speed
1900rpm
Max torque
1390N.m
Oil consumption
185g/kw.h
Cylinder door quantity
2
Engine type
In line , 4 stroke ,Pressurization, intercooling and water cooling
Max torque rotation speed
1200-1500rpm
Compression rate
17.5:1
Bore x stroke
126x130mm
HOWO sludge suction truck Transmission
HW15710, 10F & 2R
Ratio: 14.284, 10.623, 7.871,  5.876, 4.375, 3.265, 2.428, 1.799, 1.343, 1,13.913,  3.18Weight:342kgGear box oil volume:12.5L
Steering
ZF power steering, model ZF8198, hydraulic steering with power assitance
Front Axle
HF7, 1×7000 KGS
Steering with double T-cross section beam
Rear Axle
ST16, 1×16000 KGS
Pressed axle housing, central single reduction with hub reduction and with differential locks between wheels and axles.
Ratio: 4.42
Propeller Shaft
Double universal joint propeller shaft with gear-shaped coupling flange
Chassis
Frame: U-profile parallel ladder frame with section of 250x80x8mm,and reinforced sub-frame all cold riveted cross members
Brake
Service brake: dual circuit compressed air brake
Parking brake (emergency brake): spring energy, compressed air operating on front shaft and rear wheels
Auxiliary brake: engine exhaust brake
Electrics
Operating voltage: 24 V, negative grounded
Starter: 24 V, 5.4 Kw
Alternator: 3-phase, 28 V, 1500 W
Batteries: 2 x 12 V, 165 Ah
Cigar-lighter, horn, headlamps, fog lights, brake lights, indicators and reverse light
Tires
295/80R22.5, tubeless tires with one spare tire
Fuel Tank
400 L
HOWO sludge suction truck
Total volume
12000L
Fecal tank
9000L

6mm thickness tank

With a man hole

Jetting Water tank
3000L

6mm thickness tank

High pressure pump
Made in china pump : pressure is 24Mpa , flow rated is 170L/min
Fecal  pump
Vertical Suction height :>=7meters

Working pressure L400Pa

Rotation speed:500

Theoretical pumping speed of sewage: 720m3/h

Axles power:4kw

Input air hose diameter:50mm

Filling full time :<5s

Discharge time :<4s

Fecal hose (top)
The hose length is 5meters , the diameter is 108mm
Back reel
The reel length is 60meters

The reel diameter is 19mm
Advantage of the SINOTRUCK JETTING CLEANING sewage suction truck
First: vacuum pump accessories for HOWO pressure clean sewage truck:
oil-water separator
The hydraulic oil separated by the oil-water separator of the sewage suction truck is re-used as the lubricating oil for the vacuum pump of the sewage suction truck, but the separated water will be stored at the bottom of the tank, so the sewage suction truck must be drained after the work is completed.
Second: anti-overflow valve of HOWO pressure clean sewage truck
the sewage suction truck install a anti-overflow valve to prevent the sewage from overflowing into the vacuum pump of the sewage suction truck when the tank is full.
The vacuum pump of the sewage suction truck sucks more sludge, which is easy to damage the vacuum pump. Therefore, when the sewage suction truck is working, it is necessary to check the quality of the anti-overflow valve frequently.
Contact us now:0086-18727992788