25000Liters 6×4 GIGA ISUZU jetting sludge truck
ISUZU jetting sludge truck named ISUZU disposal jetting pipe combined sewage truck named ISUZU jetting combined sewage suction truck,ISUZU jetting septic tank sanitation truck ,ISUZU jetting sludge tanker truck, disposal sewage truck,ISUZU vacuum jetting truck,pressure clean vacuum suction sewer vehicle,ISUZU jetting slurry combined sewage truck .
ISUZU jetting Sewage suck tanker truck is a new type of sanitation vehicle that collects, transfers, cleans and transports sludge and sewage, and avoids secondary pollution. Liquid substances such as crude oil. The jetting sewage suction truck adopts the domestic technology-leading vacuum pump of the jetting pressure sewage suction truck, which has a large suction force and a long suction distance.
ISUZU jetting slurry combined sewage truck is especially suitable for the suction, shipment and discharge of the sludge in the sewers, especially the sewage sludge, silt, stones and bricks. larger objects such as blocks.
Where use it ?
ISUZU  jetting Slurry vacuum trucks are mainly used for cleaning urban sewers, sediments in pipelines, and dredging of dead-end mud ditch. . choose
specific of the protable  sewer suction truck
Chassis information

ISUZU GIGA sewage combined jetting clean pipe truck 
truck name
ISUZU jetting combined sewage suction truck
Truck model
CLW5250GJBQL39
Main specific
Vehicle size
9500,9800×2550×3995(mm) 
Total weight
25000(Kg) 
Curb weight
13700(Kg) 
Rated weight
11170(Kg) 
Cabin seat
2
fuel consumption
43L/100km
A/D angle
17/17(°)
F/R hang
1370/2775,1370/3075(mm) 
Wheel loader
7000/18000 double
Wheelbase
3985+1370(mm) 
Axles quantity
3
Max speed
80(km/h)
Leaf spring
8/10
Tyre quantity
10
Tyre size
12R22.5 18PR,295/80R22.5 18PR,11.00R20 18PR
Front track
2065 
Rear track
1855/1855 
Engine parameter
Engine model
6UZ1-TCG51
Displacement/power
9839ml/350kw

Update body information list

Tank Body
Volume (L)
7000L
Shape
Cylinder
Material
6mm thickness Q235 carbon steel
Rear Door
Openable with hydraulic cylinder each side, sealable with lock device each side
Tank Tipping Angle (°)
≤45
Liquid Level Alarm
Included
Visual Window
Included
Outlet Valve
Included
Inlet Valve
Included
Suction Hose
1 piece of 7m transparent hose
Moisture Gas Seperator
Included
Oil Gas Seperator
Included
Four-way Valve
Included
Sewage tanker
Volume
8000L
Vacuum Pump
Brand
Weilong double-pump
Rated Rotation Speed (rpm)
500
Flow Rate (L/s)
40×2
More tanker equipment
Oily water separator, air water separator, special vacuum excrement suction pump, pressure volume gauge, pipeline system, the sucking tube, flow valve, vacuum tank, a communicating device (as the dung window), automatic anti-overflow valve these parts
Electric system
24v
Equipment
1.Equipped with hermetic dustbin,hydraulic systerm and operatiing system

2.Automatic compress and uninstall,sewage can be collected by the dump tank.

3.Pressure is large,leakproofness is good,operation is convenient and security is demendable
Structure of the ISUZU sewage tanker truck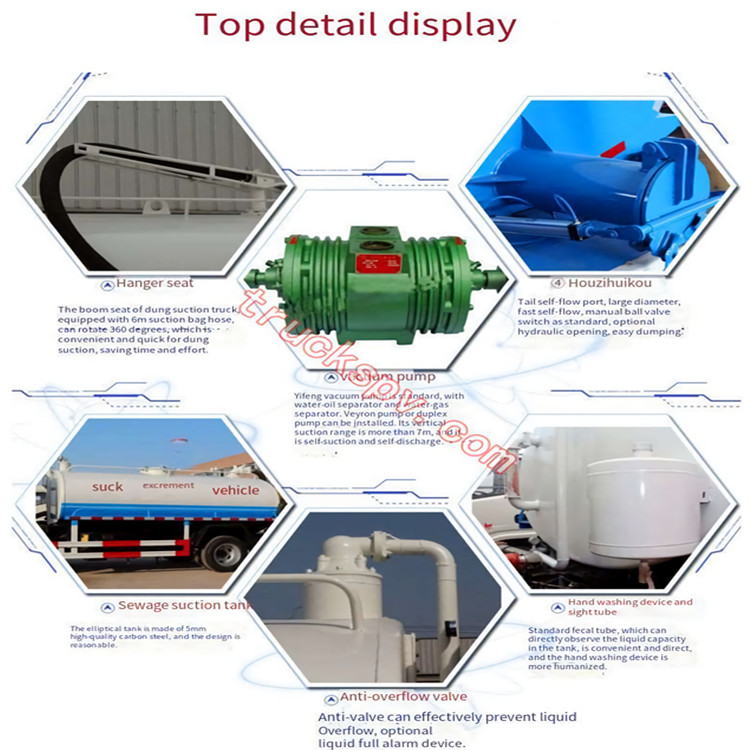 details of the isuzu sewage tanker
Advantage of the suzuk vacuum suction vehicle
First: vacuum pump accessories for isuzu toilet suction lorry
ISUZU clean sewage lorry oil-water separator
The hydraulic oil separated by the oil-water separator of the sewer vacuum vehicle is re-used as the lubricating oil for the vacuum pump of the sewage suction truck, but the separated water will be stored at the bottom of the tank, so the sewage suction truck must be drained after the work is completed.
Second: anti-overflow valve of ISUZU toilet sewage truck
the sewage suction truck install a anti-overflow valve to prevent the sewage from overflowing into the vacuum pump of the sewage suction truck when the tank is full.
The vacuum pump of the sewage suction truck sucks more sludge, which is easy to damage the vacuum pump. Therefore, when the sewage suction truck is working, it is necessary to check the quality of the anti-overflow valve frequently.
call us to get ISUZU clean sewage jetting lorry Contact us now:0086-18727992788