shacman sewage truck 20000L 8×4
shacman sewage truck named shacman Vacuum Suction Truck, shacman toilet Sewage Treatment Truck,shacman Septic Tank Suction Truck, shacman Sludge Cleaning Truck,shacman sewage tanker truck
Function of shacman flushing sewage truck
sahcman Sewage suck tanker truck is a new type of sanitation vehicle that collects, transfers, cleans and transports sludge and sewage, and avoids secondary pollution. Liquid substances such as crude oil. The jetting sewage suction truck adopts the domestic technology-leading vacuum pump of the jetting pressure sewage suction truck, which has a large suction force and a long suction distance.
It is especially suitable for the suction, shipment and discharge of the sludge in the sewers, especially the sewage sludge, silt, stones and bricks. larger objects such as blocks.
HOWO  jetting Sewage vacuum trucks are mainly used for cleaning urban sewers, sediments in pipelines, and dredging of dead-end mud ditch. . choose
specific of the protable  sewer suction truck
Chassis information


| | |
| --- | --- |
| Brand | China Shacman |
| Truck Type  | H3000 cabin Truck |
| Drive type | 6×4 |
| Truck Model | SX1255MM434 |
| Emission Standard | Euro 2 |
| Fuel Tank | 400 Liter |
| Wheelbase | 4375+1400 |
| Front axle | MAN 7.5T |
| Tires | 12.00R20 |
| Truck Box Dimension | 7600×2300×800 |
| Horse Power | 300HP |

Update body information list


No.
Main components
Detail Description
1
Chassis
 8×4,Engine is Euro 3 or 4 emission standard, There four pcs PTO to drive vacuum pump,high pressure pump and all kinds of hydraulic equipment. Chassis Model will as per cusotmer's final confirm.
2
Vacuum tank
Tank Shape:Cylinder type ,Vacuum tank volume is 15000 liters,made by carbon steel,6mm thickness shell. Design Pressure:-0.9 Bar.

There some U shape strengthen rims outside the sludge tank body to offer stonger support to the tanker body.

Hydraulic lift sylinder to lift up the tank body to outlet the sludge in 45 degree with safety support.

Water level instrument locate in the rear of the tanker body.6 or 4 outlet valve in the rear to release the sludge.
Structure of the shacman sewage tanker truck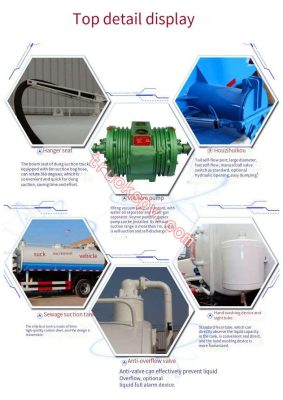 details of the shacman sewage truck
Advantage of the shacman  sewage suction vehicle
First: vacuum pump accessories for shacman toilet suction truck
oil-water separator
The hydraulic oil separated by the oil-water separator of the shacman sewage vacuum truck is re-used as the lubricating oil for the vacuum pump of the sewage suction truck, but the separated water will be stored at the bottom of the tank, so the sewage suction truck must be drained after the work is completed.
Second: anti-overflow valve of sahcman toilet sewage truck
the sewage suction truck install a anti-overflow valve to prevent the sewage from overflowing into the vacuum pump of the sewage suction truck when the tank is full.
The vacuum pump of the sewage suction truck sucks more sludge, which is easy to damage the vacuum pump. Therefore, when the sewage suction truck is working, it is necessary to check the quality of the anti-overflow valve frequently.
Contact us now:0086-18727992788