Introduce of my company
Our company is one of the enterprises with a complete range of isuzu lifting crane (ISUZU telescopic crane mounted crane truck lorry)products in the industry. Through the hydraulic lifting and expansion system, the lifting crane truck of goods lifting, rotation, lifting, widely used in municipal lifting, rescue operations and in stations, ports, wharf warehouse, construction site and other fields. With the advanced technology and rich experience, we provide customers with excellent performance of the automotive vehicle lifting telescopic crane mounted on truck vehicle products and professional optimized solutions.
Photo of ISUZU crane truck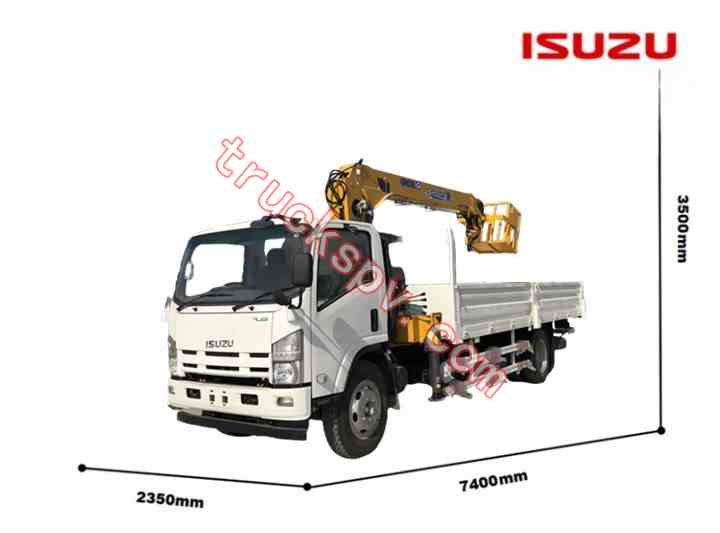 Qingling Isuzu 700P full drive crane with cargo van lorry , using the domestic well-known crane and hydraulic pump system, according to the user needs can choose different tonnage of different levels of the crane and different lengths of the container. All private customized services.
Main brands of crane: Sany Palfig, XCMG, Guhe UNIC, coal, Silbo HIAB

List tonnage: 2 tons, 3.2,4,5,6.3,8,10,12,14,16,25, up to 60 tons
Main information of the ISUZU chassis
Form of crane: the telescopic straight arm crane or folding arm crane can be selected according to the actual needs.
Isuzu 700P full crane (crane)
Chassis model
Isuzu 700P ISUZU telescopic crane truck
Cab occupant
Original single row, you can take 3 people
Maximum lifting quality of the crane
Eight tons
maximum height of lift
12.6 m
operate
Dual-bit independent operation.
engine
4HK1-TC51
Tyre model
235/75R17.5
Number of tires
6 + 1 (42) Drive
outline dimension
7700×2350×3500mm
wheel base
4475mm
Isuzu with the car hanging, special function description
ISUZU lifting crane truck packing box
Using the mold stamping type convex grain plate block combination, the latest one-time pressing molding production, 12 reinforced groove steel beam fixed, not only reduce the weight of the vehicle, but also increase the lifting and loading capacity, compared with the general plate about 2~3 times the increase of adhesion.
loop wheel machine
Using Xugong XCMG, Sany Palfig, Wuhe UNIC and other international first-line big brands, quality assurance, save money and worry.
valve member
Adopt the Italian Hyde imported brand
Hydraulic oil road
Full inlet sealing ring, high pressure galvanized steel pipe, strong pressure resistance, good heat dissipation performance.
Personalized needs
1. Customized box size.
2. Wireless control.
3. Back leg of the double cavity.
4. High-altitude seats
Contact
Contact xi chen .whatsapp+86-18727992788