6×4 SINOTRUK watering tank truck 25MT
SINOTRUK watering tank truck named HOWO water  truck ,sino water bowser , HOWO water sprayer tanker ,SINO water cart ,SINOTRUK water carrier, SINO track water lorry .HOWO reduce dust suppression , HOWO delivery water tanker ,HOWO tanker truck , transport water lorry ,etc
Function of this HOWO tanker truck 
It suit guardrail washing , transport waste water , pure water , drinking water , the water sink  is suitable for clean various road , trees , green belts , factory and mining enterprises , high -altitude building , construction site.
—-Chassis is SINOTRUCK HOWO with yuchai engine
—-Tank is made by carbon steel or stainless steel ,alloy
—-Tanker size 5,000Liters to 10,000Liters .
—-Easy parts
—-Long time warranty
Cabin
HW76 double cabin

Air condition

70 degree hydraulically tillable to the from

Gear box
HW19710,10 forward speed , and 2 reverse
Clutch
Reinforced diaphragm clutch ,diameter 340mm
Steering gear
ZF8098 power steering , hydraulic steering with power assistance
Fuel tank
400L
Brake
Service brake : daul circuit compressed air brake

Parking brake: emergency brake: spring energy, compressed air operation on rear wheels

Auxiliary brake : engine exhaust brake
Main specific of the howo 6×4 water bowser
Tank Description
1. Shape: Oval2. Material:carbon steel tank

3. Thickness;4mm

4. Left hand drive

5. 3 baffles

Performance description
Vertical Suction ≧ 7 meters
sprinkler width ≧ 14-16 meters
Watering a range of ≧ 28-30 meters
Suction the water time <5min
Pump flow of 90m3 / h
Pediment (spray), then sprinkle with side spray (shower), with rear work platform, platform installation green sprinkler artillery (gun adjustable spray shapes: straight, heavy rain, moderate rain, drizzle, mist, can be continuously adjustable, 360 ° rotation), the interface with the fire, gravity valve, strainer, with self-absorption self-row functions.
Structure of the HOWO water bowser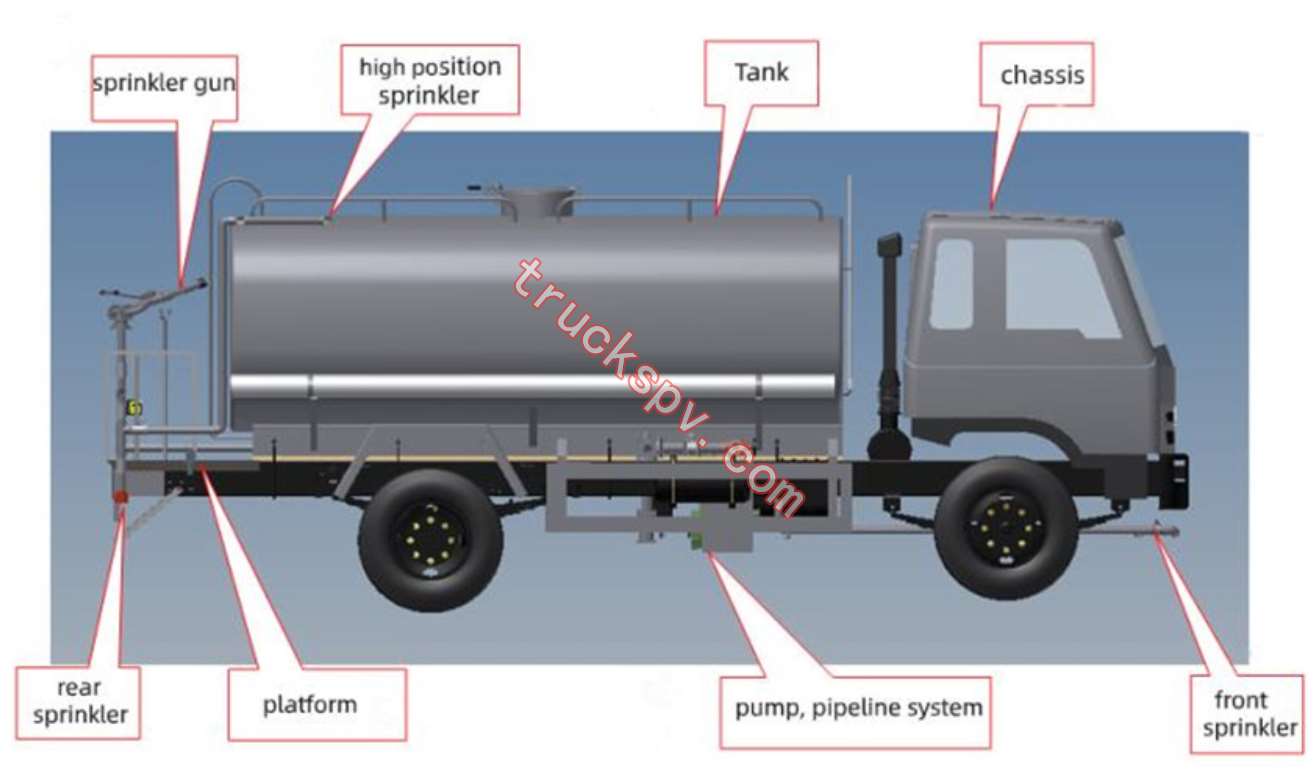 Details parts of the sinotruk delivery water lorry
More details of the SINOTRUK  water sprayer vehicle
What are water trucks used for ?
The chassis equipped with large tankers in rear fro transporting water and use hydraulic system controlled spray , nozzle for spreading water .
What size is a transport water tank truck?
It accords the truck size.
How much water is in a water tanker ?
It accords the tank size .
How to buy a hot sales HOWO tanker truck ?
Find a factory like us .
HOWO water tank for sale /new water tankers
Welcome you come to china and visit our factory to inspect our HOWO water lorry .
Contact us 0086-18727992788